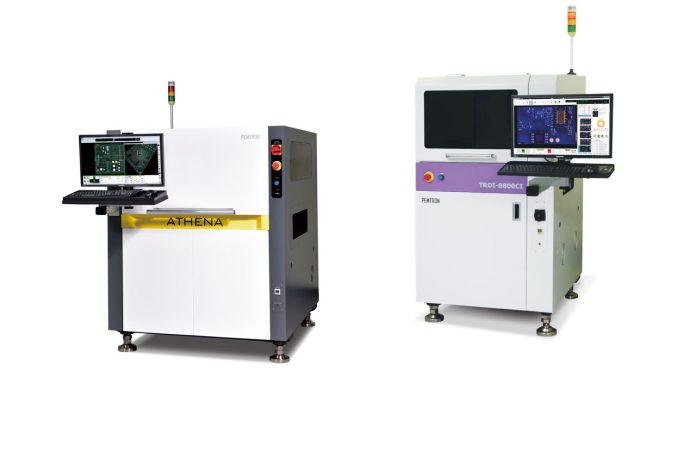 Pemtron Technology, an inspection equipment developer and supplier, is pleased to announce plans to exhibit at the SMTA Aguascalientes Expo and Tech Forum, scheduled to take place Thursday, June 1, 2023 at the Aguascalientes Marriott Hotel in Aguascalientes, Mexico.
Jaime Arreola, Pemtron's MX General Manager, will be available to meet with customers to discuss the Athena 3D Automated Optical Inspection System and TROI 8800 CI Series Conformal Coating Inspection System.
The Athena 3D Automated Optical Inspection (AOI) System uses 12-way projection for 3D measurements on all models to minimize errors due to shadow effects, and performs 100 percent of 2D & 3D inspection concurrently in all FOV areas. This significantly reduces false calls while providing near-perfect detection. The system offers 10/15 or 18um resolution, a 10MP camera (optional 12MP) and a three-stage conveyor.
Pemtron's TROI 8800 CI Series Conformal Coating Inspection System with optional inline Coating Thickness Measure provides the most reliable conformal coating inspection. With simple programming, the machine can inspect defects like cracks, coating voids, wrong coating thickness (too-thin or too-thick).
For more information about Pemtron, visit pemtron.com/
About Pemtron
Based on 3D precision measurement and vision source technology, Pemtron develops equipment used in various fields such as SMT, Automotive Field, Lead Tab, Semiconductor, and supplies Soldering Inspection equipment (3D SPI), 3D Mounting Inspection equipment (3D AOI, MOI), Wafer Bump 3D Inspection equipment, Wire Bonding 3D Inspection equipment, and Lead Tab Process/Inspection equipment.