Indium Corporation®, a global electronics materials manufacturer and SAFI-Tech, an Iowa-based startup that is creating no-heat and low-heat solder and metallic joining products, have announced the launch of a new supercooled BiSn solder paste using SAFI-Tech's innovative solder platform.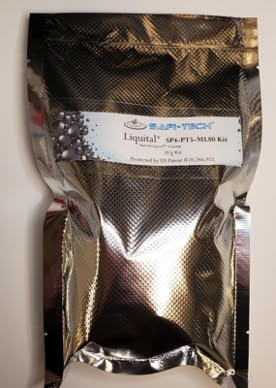 Using SAFI-Tech's platform, liquid metal is encapsulated in a proprietary soft shell, keeping the solder alloy in a sub-cooled (liquid) state far below its normal melting/freezing point. The shell of these powder-like microcapsules can be removed using a traditional flux and reflow process, or burst by compression.
SAFI-Tech's supercooled BiSn solder paste can be fluxed and reflowed at 135°C, a temperature that is currently impossible to reach using conventional BiSn solder alloys.
Target applications include flexible hybrid electronics and heat-sensitive applications currently using conductive epoxies.
SAFI-Tech's CTO and President Ian Tevis said, "We are excited to work with Indium Corporation on the release of our supercooled BiSn product. Indium Corporation's network of customers and equipment suppliers will allow us to bring supercooled solder to market."
Indium Corporation President and COO Ross Berntson said, "SAFI-Tech's platform is changing the way in which the electronics industry can use solder. Their BiSn product will allow customers to create fully metallic, electrically conductive joints in applications where this is currently not possible."
SAFI-Tech and Indium Corporation are currently sending their supercooled BiSn solder product to interested parties for testing. For business inquiries and for more information about SAFI-Tech's no-heat and low-heat solder and metallic joining products, contact Andy Mackie at amackie@indium.com and Ian Tevis at ian@safi-tech.com.
About Indium Corporation
Indium Corporation® is a premier materials refiner, smelter, manufacturer, and supplier to the global electronics, semiconductor, thin-film, and thermal management markets. Products include solders and fluxes; brazes; thermal interface materials; sputtering targets; indium, gallium, germanium, and tin metals and inorganic compounds; and NanoFoil®. Founded in 1934, the company has global technical support and factories located in China, Germany, India, Malaysia, Singapore, South Korea, the United Kingdom, and the U.S.
For more information about Indium Corporation, visit www.indium.com or email jhuang@indium.com. You can also follow our experts, From One Engineer To Another® (#FOETA), at www.linkedin.com/company/indium-corporation/ or @IndiumCorp.
About SAFI-Tech
SAFI-Tech is an advanced materials company creating supercooled molten metal products. SAFI-Tech's supercooled platform was invented by co-founders Dr. Ian Tevis and Dr. Martin Thuo at Iowa State University.