Kurtz Ersa Inc., a leading supplier of electronics production equipment, today announced plans to exhibit in Booth #724 at the SMTA Guadalajara Expo & Tech Forum to take place Sept. 21-22, 2022, at the Expo Guadalajara in Jalisco, Mexico.  
The company will highlight the i-CON Trace soldering station, HR 600/2 hybrid rework system, VERSAFLOW ONE selective solder system, EXOS 10/26 reflow soldering system with vacuum, HOTFLOW 3/20 reflow soldering system and Ersa POWERFLOW wave soldering system.
Ersa's award winning i-CON TRACE, the world´s first IoT soldering station that enables seamless traceability during manual soldering. With integrated WLAN, Bluetooth and network card on board, the i-CON TRACE already offers 100 percent connectivity in digitally networked manufacturing processes when delivered. The possible MES connection allows the integration and storage of soldering parameters used in complex, networked manufacturing processes that already run via an MES. The i-CON TRACE impresses with maximum performance and minimum operating costs. With 150 watts of power, it heats up quickly, reheats even faster and can be controlled extremely precisely.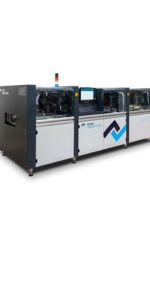 The Ersa VERSAFLOW ONE now complements the Ersa range of inline selective soldering machines as an entry-level model. It incorporates decades of know-how in the form of proven hardware and intuitive software (ERSASOFT 5). Set up, switch on, solder – optimal selective soldering could not be faster or easier. With the highest demands on quality, throughput and ease of maintenance. In addition, the VERSAFLOW  ONE scores with the highest availability world-wide and a delivery time of about two to four weeks.
Ersa will give customers in depth and personalized equipment demonstrations for wave soldering, reflow soldering, selective soldering, rework equipment, hand soldering, additive manufacturing, I4.0 connectivity and more.
For more information about Kurtz Ersa Inc., visit ersa.com