Meet us with Nano Dimension in Hall B2.103 and Hall A3.134 and be inspired by our novelties in Solder Jetting, Integrated Inspection System and Smart Material Management. The focus is on proven, concrete solutions in many different areas, some of which are unique in electronics manufacturing.
ALL-IN-ONE NPI
HIGH-MIX LOW-VOLUME
HIGH-SPEED DISPENSING
PRINTED ELECTRONICS
COMPLEX VOLUME REPAIR
SOLUTIONS BEYOND SMT
What it's all about in detail and in which solutions you discover your benefit, you will find out in the next lines. All these solutions and much more can be seen live at the Essemtec booth.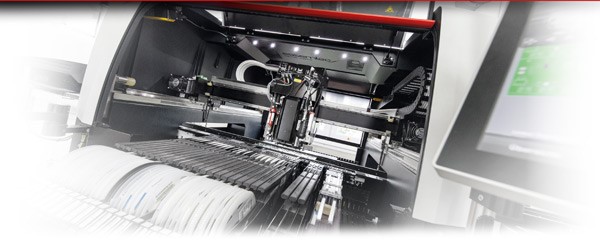 ALL-IN-ONE NPI
All-in-One multifunctional solution with dispensing & pick and place combined in one machine. Very high feeder count together with an ultra-flexible machine and user-interface represent the perfect solution for small and medium sized batches, prototyping and transfer to serial production. The solution can be expanded at any time based on demand.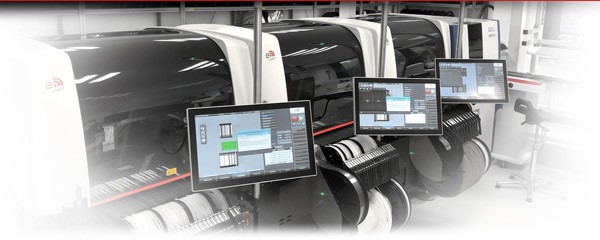 HIGH-MIX LOW-VOLUME
With ever-shrinking batch sizes and increasing product changes, the efficiency and productivity of an SMT assembly line are determined by the speed of changeovers. The solution combines multiple machines in a line with extended feeder space, storage capability, and software to enable a fast changeover. With various options, the solution can be tailored to customer needs.

HIGH-SPEED DISPENSING
Unique solutions for jetting and dispensing adhesive, solder paste, silver epoxy and other media for SMD and related market segments. Several dispensing heads can be used in parallel to increase flexibility. Process adjustments are supported by automated quality tools and a user-friendly software-interface. High-tech dispensing, integrated into any high-speed line.

PRINTED ELECTRONICS
Printed electronics is the fastest growing technology in electronics manufacturing. Dispensing and component placement are done on flexible substrates, as foils, reel-to-reel, or various shapes and materials. The all-in-one solution offers different dispensing heads, an integrated vacuum table, as well as pick and place. This is an innovative and proven solution.

COMPLEX VOLUME REPAIR
Repair technology improves the cost and quality of the PCB overhaul process. Highly flexible solder paste jetting into pockets and flying over placed components with special tips and nozzles make this solution unique. The repair process is performed automatically on one single machine. The throughput can be increased with several components repaired in one run.

BEYOND SMT
Standard machines with dispensing & pick and place are adapted to customer needs to offer a quick response to todays or future market demands. Together with our customer, we develop new applications for medical, aerospace and automotive markets and offer proven solutions for sensors, batteries, LEDs, smart-homes, smart-devices, etc.
To learn more, visit www.essemtec.com.