Just north of Austin in Round Rock, TX, East/West Manufacturing Enterprises is growing and thriving. With a completely web-based solution for inventory control, traceability, accounting and quality management, East/West uses Cetec ERP; a comprehensive business platform.
Before the implementation of Cetec ERP, East/West was using Quickbooks and spreadsheets for their business processes. With their continuously rapid growth, East/West quickly realized that a scalable ERP platform was necessary to accomplish their day-to-day tasks as well as their long-term goals. Because East/West was already using CalcuQuote for their quoting, they asked for a recommendation of an ERP system that would integrate with the quoting software. CalcuQuote recommended Cetec ERP, and the rest is history.
East/West President and CEO Andy Salo says that bigger, maybe more well-known ERP softwares out there tend to be bloated and complex.  He liked Cetec ERP for its simplicity and cost-effectiveness. Salo says Cetec has made a huge difference in cost, time, and internal resources required for their company.
"Cetec has been an absolute table stakes for what we need to do in our industry," says Salo. "It is a very powerful platform, cloud-based, and we're able to use it all the time for everything we need to do."
Salo says Cetec provided the organization East/West needed with its full traceability and tracking processes. Now their production schedules run more smoothly and the products are delivered on time to their customers. East/West serves customers in the medical industry and Aerospace and Defense, and Salo says having an ERP platform that can scale to those types of projects is extremely valuable.
Another advantage Salo has found with Cetec ERP is the API integration with other platforms. For example, when employees at East/West do electronic travelers, they make API calls into Cetec to double check that the travelers are matching the steps that they've outlined for Cetec to perform. Salo says, "One of the huge advantages is the fact that you can customize Cetec with those APIs and integrate with other systems very easily, much more easily than a lot of other platforms."
When it comes to the customer support at Cetec ERP, Salo calls it "phenomenal". He appreciates the quick responses he receives via email or phone calls from Cetec ERP's support team. Because it's a cloud-based platform, Cetec ERP is able to roll out new versions of software with updated features and bug fixes several times a year. Salo says it is extremely beneficial to him and his team of employees to have an ERP that releases new software versions without systems going offline and halting business. East/West anticipates their company will continue to scale and grow effectively with the help of cloud-based Cetec ERP.
Quote from Andy Salo, President and CEO of East/West Manufacturing: "Cetec has been an absolute table stakes for what we need to do in our industry. It is a very powerful platform, cloud-based, and we're able to use it all the time for everything we need to do."
SCREENSHOT OF CETEC ERP APPLICATION: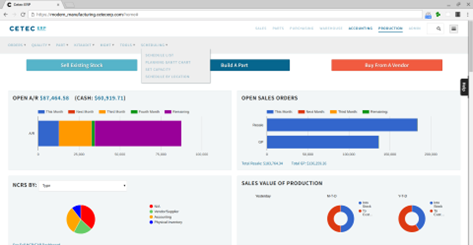 LINKS:
URL: cetecerp.com
TWITTER: @CetecERP
FACEBOOK: www.facebook.com/cetecerp
LINKEDIN: www.linkedin.com
YOUTUBE: www.youtube.com
ABOUT CETEC ERP:
Cetec ERP is disrupting a stagnant, high dollar industry that has resisted change for decades. Since 2015, and without any major marketing initiatives or venture capital funding, Cetec ERP has independently migrated hundreds of companies off legacy technology platforms like Oracle and NetSuite, saving companies hundreds of thousands of dollars, onto a new generation of lower cost ERP technology.
ABOUT EAST/WEST MANUFACTURING:
East/West is a full service electronics manufacturing services company performing high quality PCB Assembly, custom cables and box-builds for many industries.
Functional testing is performed after the printed circuit boards are assembled and quality inspections are complete. East/West's process is designed to meet the urgent needs of getting projects quoted, built, and shipped in a matter of days. East/West also provides Build-to-Print (BTP) manufacturing services for equipment, cases, cables and other assemblies. East/West system integration expertise is a critical component for customers' projects from small to large-scale production deployments.