The in-house Technology Days event is a tradition at Rehm. Yet this year it reached a new level. On the occasion of its 33rd anniversary Rehm invited hundreds of customers, partners, employees and press representatives from all over the world to the company's Swabian headquarters in Blaubeuren on 26 and 27 April 2023. Under the motto "Be smart – take part", a wealth of topics ranging from current research, practice and user-oriented workshops awaited the visitors, from the art of sustainable electronics manufacturing, connectivity and networking to smart automation and artificial intelligence.
Rehm has always used Technology Days as a platform for highlighting and discussing the sometimes rapid advances and developments in the electronics industry. Thus, all participants were again invited to discover new trends and be inspired by innovative ideas. The main focal points of the event were therefore knowledge transfer and exchanging of experiences, an offering that was readily taken up by the guests.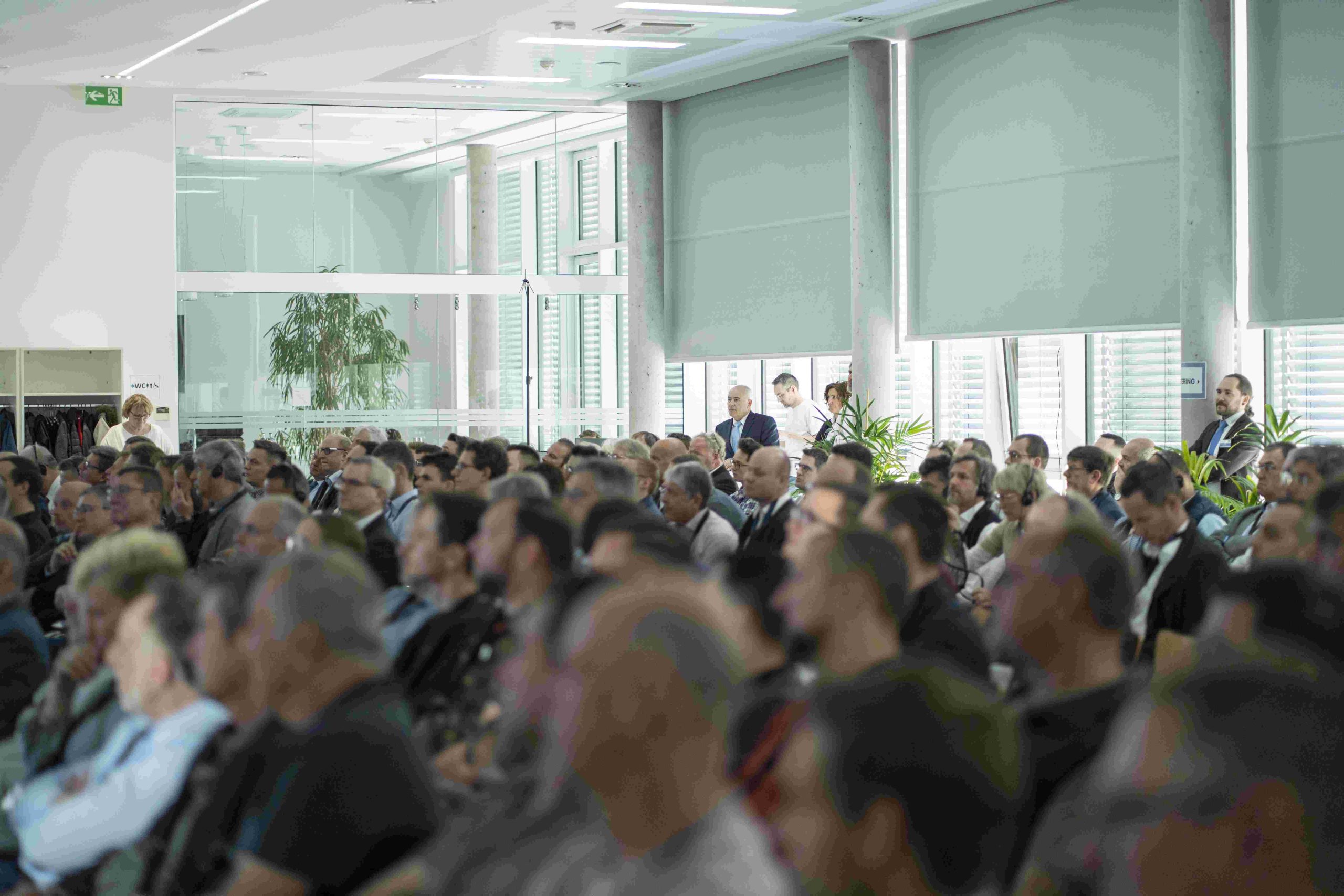 Keeping up with the times – lectures and keynotes at Technology Days
In a total of 10 top-level specialist presentations on 26 and 27 April, the company's own experts as well as invited specialists shed light on concrete challenges for companies. For example, on the first day of the event Dr Frank-Peter Schiefelbein from Siemens Technology Berlin spoke about 33 years of electronics manufacturing, Dr Paul Wild from Rehm Thermal Systems illuminated innovative solutions for sustainable electronics manufacturing and Professor Aylin Bicakci from Kiel University of Applied Sciences presented current trends and the future challenges of power modules. The following day, Markus Scheid from Scheid IT gave a presentation on communication interfaces in SMT manufacturing, Ronny Witzgall from SMA Solar introduced practical examples of the IPC/CFX standard and Thomas Mückl from Zollner AG showcased AI applications in electronics manufacturing. Further contributions from the host's experts explored the path towards CO2-neutral production as well as innovative line concepts for coating applications.
Among the highlights of the lecture series were the respective contributions of the keynote speakers. On 26 April Professor Christian Berg of the German Club of Rome e. V. spoke about sustainability as a driver of innovation and optimisation. He emphasised not only the topicality of climate change and the importance of ecological and social sustainability, but also the challenge of comparing the necessary investments with the economic benefits. During his presentation, the win-win situation in which both sides benefit – sustainability as well as economic growth – was mapped out all the more clearly. On 27 April Professor Yasmin Mei-Yee Weiß, supervisory board member, start-up founder and professor at Nuremberg Institute of Technology spoke about the "future hot skills" that will be indispensable for success in the digital age. In her presentation she outlined a fundamental transformation of the world of work in the face of increasingly diverse international teams, automated processes and new technologies such as artificial intelligence. She focused on the importance of durable meta-competencies such as learning ability, resilience, empathy or communication skills – and the creation of a new, complementary intelligence from the collaboration between humans and AI.
More than 300 invited visitors listened to the presentations in the company's own premises. For the audience from abroad, simultaneous interpreters translated the presentations in real time. Numerous other guests and employees also took advantage of the option to follow the presentations via live broadcast in the company's in-house canteen and hold discussions in a relaxed atmosphere over coffee.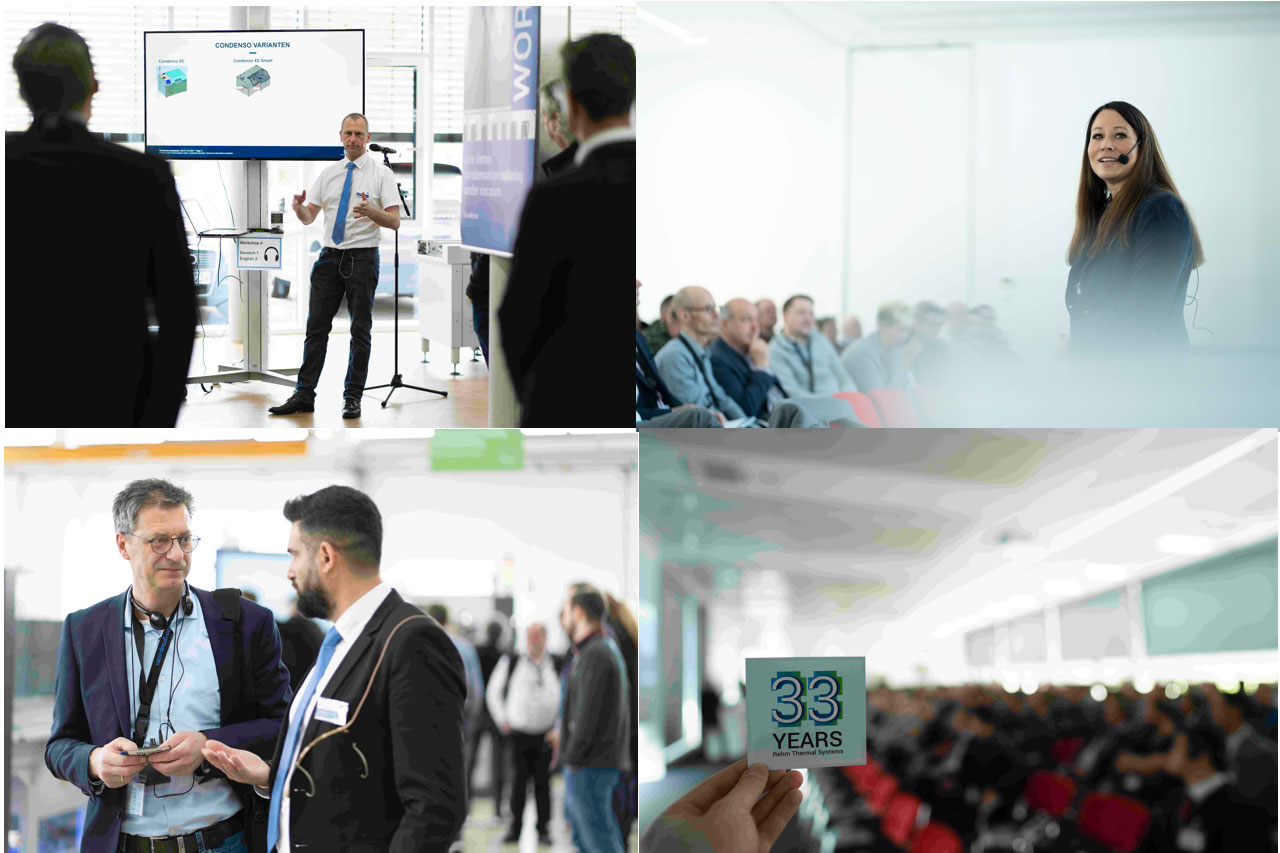 Smart processes at first hand – workshops and live demonstrations
The numerous workshops and live demonstrations that took place throughout the building were also geared towards direct exchange. During Technology Days they provided an opportunity for visitors to experience smart processes at first hand. Rehm installed equipment for this purpose at four different stations and prepared it for the registered participants. To ensure good acoustic quality, all visitors were provided with headphones – and interpreter services were also available here for foreign-language visitors.
The workshops themselves focused on soldering and coating processes. For example, Dr Paul Wild presented new concepts for a stable and energy-efficient soldering process, and Gianfranco Sinistra and Markus Scheid, from Rehm and Scheid IT respectively, spoke about smart line concepts in the field of conformal coating. Jan Schacher and Nico Fahrner from Rehm also demonstrated contact soldering with automated loading as well as condensation soldering in a vacuum.
Numerous info points on various products as well as informative exhibitions by partner companies and guided company tours rounded off the wide-ranging programme of Rehm Technology Days 2023.
Be smart ­– take part: art for a good cause
Whether it's smART automation, being pART of connectivity, ARTificial intelligence or the heARTbeat of technology – Rehm Technology Days was not short of allegories on the topic of art and artificial intelligence. Numerous paintings, renderings and graffiti were created during the preparations for the event in a collaboration between human creativity and AI. The auction of selected items during the evening event on Wednesday 26 April proved that the work went beyond mere surface appeal. Around 800 guests outbid each other to win one of the unique pieces for themselves – and all for a good cause. In the end, several thousand euros were raised, money which will now benefit Förderkreis für tumor- und leukämiekranke Kinder Ulm e. V. and Urspringschule, an accredited children's and youth welfare facility in Urspring, Baden-Württemberg.
Live webinar: Review of Rehm Technology Days 2023
May 24th, 2023 / 09:00 a.m. and 4.00 p.m. CET (English)
We invite you to relive the highlights of the Technology Days in our live review webinar. We provide you with an overview of the programme and answer your questions about the event.
The German-language webinar on this topic will take place on May 23rd at 9:00 CET. You can register online for the webinar at https://www.rehm-group.com/en/news/dates.html.
You can also read all the important information about the Technology Days programme and the anniversary celebrations online at https://www.rehm-group.com/en/technology-days.html.