New CableSaber Will Cut Through Thick and Armored Cable Jackets
By popular demand, Jonard Tools has released the CableSaber+™ (AST-210).
This updated version of the award-winning AST-200 from 2020, features many of the same easy-to-use functions, however, the AST-210 features a longer blade length, making it perfect for use on a broader range of cables including Corning Optical's 144F or their 1728F RocketRibbon® cable.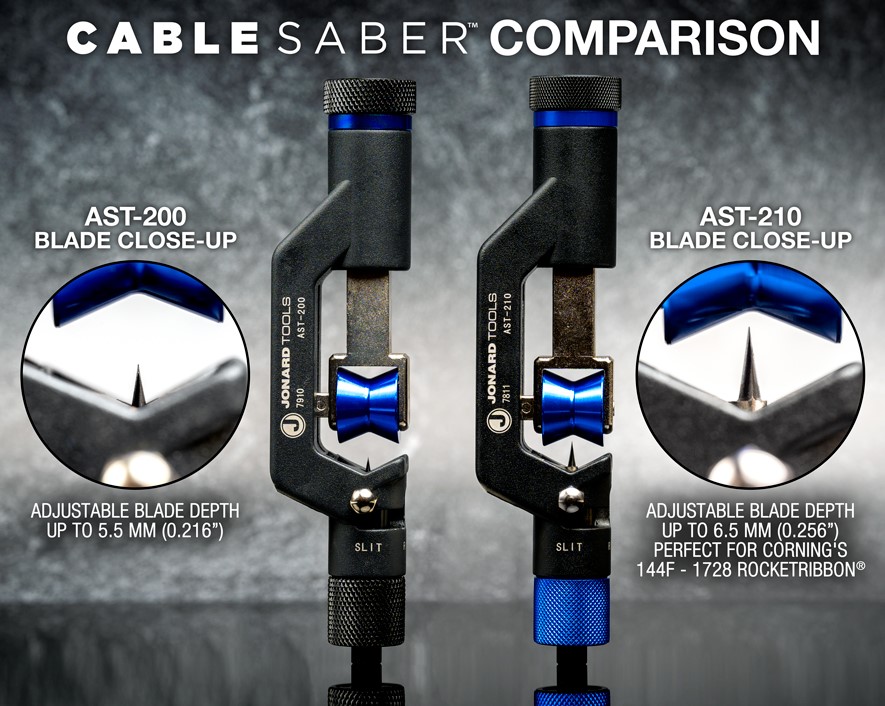 "The AST-210 is perfect for opening cables with extra thick jackets such as the Corning Rocket Ribbon Cables. The blade's unique shape and longer length allow you to cut through cable jackets up to 6.5mm in thickness with ease."
The AST-210 features a thumb screw to adjust the blade's depth up to 6.5 mm (0.256"). The precision steel blade can easily cut through tough cable jacket materials without damaging interior fibers. The same thumb screw will also allow a user to set the blade for longitudinal cuts for slitting or set for radial cuts for ringing. The dial at the top of the AST-210 adjusts the height of the guide wheel to keep cables in place.

The AST-210 is lightweight and rugged, made with anodized aluminum and steel for maximum durability. Also, the aluminum shaft housing, that holds the guide wheel, acts as a convenient handle, which provides greater leverage while slitting or ringing cables.
Lastly, as with most of our hand tools, the AST-210 is backed by our Made for Life®, guaranteed for life policy.
Follow the link for more information on the original version of the CableSaber, AST-200.
Watch our YouTube video on the new CableSaber+ AST-210.
Jonard Tools' Pull Line Blower Conveniently Functions Without a Compressor
The Jonard Tools PLB-1000, Pull Line Blower for 3/4″-2″ (18-50 mm) Conduit makes pulling cables a breeze.
The Pull Line Blower is designed to help cable technicians either blow or suck lines through 3/4″ – 2″ (18-50 mm) conduit for cable pulling. The PLB-1000 is an excellent tool to have for anyone who needs to run wire or cable through conduits multiple times a day.
The PLB-1000 has both suction and blowing modes, and does not need to be connected to a compressor to function. It can be used on commercial and residential pipework and works great on flexible conduits. Its unique design also makes it easy to get through bends and kinks in conduit.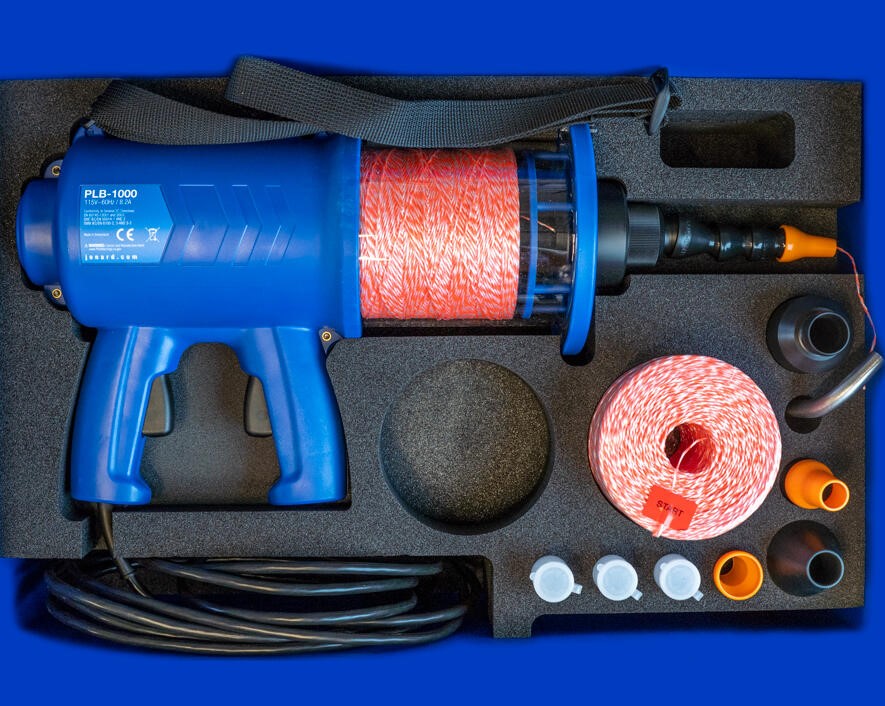 The Pull Line Blower comes as a kit that includes pull line rolls (diameter of 1 mm, tensile strength approx. 24 kg, length approx. 900 m), multiple joints with various size nozzles, a suction device, and the EZ50 Pull Line Blower (or string gun).
The Newest Addition to Jonard Tools' Very Popular Family of Nut Drivers
The popular line of Jonard Tools' nut drivers has a new addition with a great new feature. The ND- 630916, 9/16″ Hollow Nut Driver, 3″ Shaft, has a hollow shaft, making it great for use on stacked circuit boards, and has a new style of handle marking to make it easier to identify while stored.

The ND-630916 features an ergonomically designed handle with a rubberized, thermoplastic grip for greater comfort and torque. The nut driver also complies with ASME B107.110 and ANSI standards.
The ND-630916 is part of Jonard's line of nut drivers. And as with most of our hand tools, the ND-630916 is backed by our Made for Life®, guaranteed for life policy.
For more information, please visit www.Jonard.com.