Seika Machinery, Inc., a leading provider of advanced machinery, materials and engineering services, announced its product line up for the 2023 IPC APEX EXPO, scheduled to take place Jan. 24-26, 2023 at the San Diego Convention Center in California. Seika plans to demonstrate the new SAYAKA PCB Router SAM-CT34XJ Stand Alone & In-Line Solution, Kyowa MRS-100 Strain Gauge Monitor, Sawa Ecobrid, McDry DXU-1001A with Data Logger, Malcom RCX Modular profiling system and more in Booth #2732.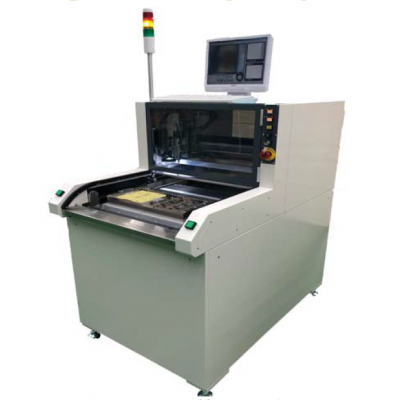 The SAM-CT34XJ features a slide table for fast and easy loading/unloading of PCBs, repeatability ±0.01mm and low maintenance. The color CCD camera makes it easy to program, along with an automatic QR code reading and uploading program. The system offers broken/slip bit detection and extended bit life with automatic bit position control.
The Kyowa MRS-100 series quickly connects strain-gauge sensors wirelessly. The telemeter measures high-speed phenomena in experimental and research fields, such as the automotive industry, and transmits the test data in almost real-time. The MRS-100 series also connects the load sensors and pressure sensors for quality controlling wirelessly by mounting it in manufacturing lines and improves the productivity.
The Sawa Ecobrid stencil cleaner provides a fast tact time in both cleaning and drying at under 10 minutes. It also offers low solvent usage, energy consumption and running costs. The fully automatic cleaner features easy-to-use touch panel operation and uses a low-VOC solvent, making it environmentally-friendly and resulting in little to no flash point concerns.
The McDry DXU-1001A cabinet will be available with the optional Data Logger. By adding a Data Logger to McDry cabinets, users can schedule recurring reports right to your inbox. Also, get email, text and phone alerts when temperature or humidity is out of specification. Charts are downloadable as evidence for traceability, and Data Loggers are Ethernet based, Wifi and networking capable.
The Malcom RCX Modular profiling system with onboard video camera will be on display with the new vibration monitoring module! The Malcom RCX Series Modular Reflow Oven Profiling System offers complete profiling of reflow ovens, including oven temperature, video imaging, O2 concentration and convection air velocity. It verifies that ovens are performing at optimal conditions and enables users to troubleshoot problem areas.
Additionally, the Malcom SWB-2 wettability tester will be on display and available for demonstrations.
Ask for a competitive quotation on any Seika equipment and place an order while supplies last. Contact Michelle Ogihara at 310-540-7310; e-mail michelle@seikausa.com; or visit www.seikausa.com.