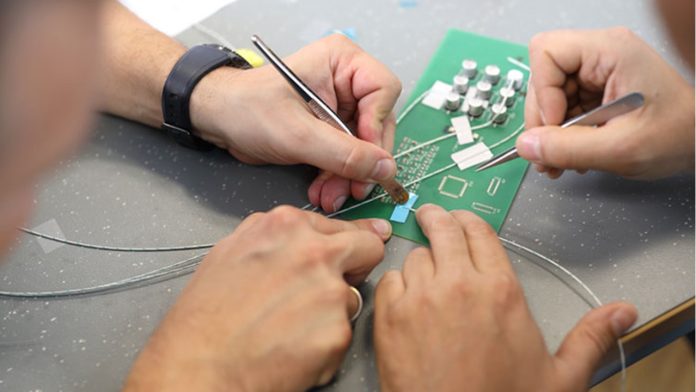 Since spring 2022 Rehm Thermal Systems has offered its customers a wide-ranging direct service in India. Sales and service employees in the industrial centres of Bangalore and Delhi support their partners on-site all over the country and round the clock. Customers benefit from direct support, decentralised parts hubs and simplified access to the Rehm Technology Centre in the Asian region.
International companies from Asia, Europe and America are all represented in the growing Indian market, including many customers of Rehm Thermal Systems. In order to act as a local partner to meet the growing needs for fast, direct support, Rehm is continuing to expand its presence on the subcontinent.
A dependable partner for support and service
Central to Rehm's activities in India are direct sales, service and support. Global customers of many years' standing, in India and beyond, along with hundreds of Rehm systems, rely on the smooth, direct support offered to them in the local and national language. One way that Rehm meets this challenge is with its own offices in the industrial conurbations in the north and south of the country. "We support service contracts, offer just-in-time support, are always available via our own hotline and provide assistance both digitally and on-site in person", says application assistant manager Krishnamurthy Sreekanth of the comprehensive service offering. Not least among these services is the supply at short notice of replacement parts, thanks to a decentralised parts hub distributed across the entire country. Also, of interest to customers in India is the straightforward access to the nearest Rehm Technology Centre in Asia.
Inspection, testing and evaluating: the Rehm Technology Centre
At the Rehm Technology Centres in Europe, America and Asia, customers can test their modules through the direct application of vacuum, condensation and convection soldering processes and dispensing solutions, create individual temperature profiles and aided by Rehm's specialists, define optimal parameters for their individual production processes. Equipped with the latest equipment, the Technology Centres thus offer all opportunities for reliable process evaluation and development.
About Rehm Thermal Systems
Rehm Thermal Systems is a technology and innovation leader in the state-of-the-art, cost-effective manufacturing of electronic assembly groups. It specialises in thermal system solutions for the electronics and photovoltaics industry. We are a globally active manufacturer of reflow soldering systems with convection, condensation and vacuum, drying and coating systems, functional test systems, equipment for the metallisation of solar cells as well as numerous customised systems. We have a presence in all key growth markets, and with more than 30 years of industry experience, we implement innovative production solutions that set new standards.
For more information, please visit www.rehm-group.com.