Witness Nano Dimension and Essemtec attention-grabbing demos of 3D AME NFC production on our DragonFly and FOX equipment at Electronica, Munich, Stand B1.507. Visit us to explore new opportunities in precision Micro-AM, Additively Manufactured Electronics, and Surface-Mount Technologies.
Essemtec is for the first time at Electronica Munich, and this immediately with a large number of new solutions. Here you can see what we show and what problems our customers solve with it.
The ground-breaking unique All-in-One combined processes solution for printed electronics.
With this 3D technology, developers can get rid of mechanical buttons and switches, complex multi-part electronics assemblies and replace them with one-piece solutions that are thin, light, beautiful, and strong, without compromising functionality. In addition to simplifying electronics integration and enabling new use cases, IMSE parts typically reduce weight by 70%, or more, and wall thickness can be as slim as 2 mm. Studies show that this new technology has huge growth potential across many industries, including automotive, appliances, IoT, and industrial solutions, to name a few.
The world's only All-in-One combined processes solution for prototyping adhesive solder paste jetting and pick and place in one machine.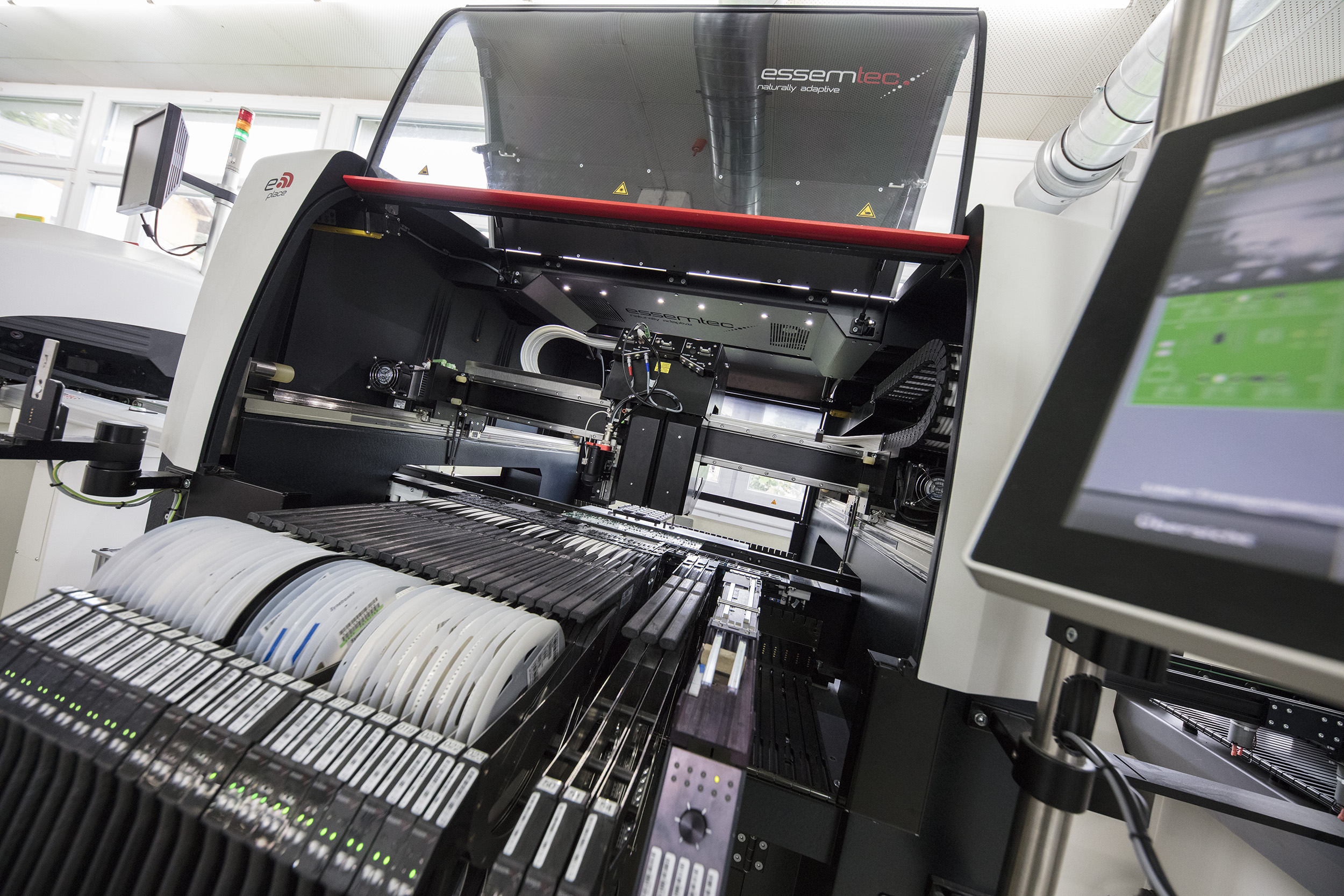 The advantages of this solution are essential to small and medium companies to survive in the dynamic electronics manufacturing ecosystem. Prototype, small series and large-scale production are increasingly subject to extreme time pressure. Time-to-market is a decisive success factor in today's market. In addition to production time, the primary focus is on fast response times and rapid designs. Corrections, adjustments and process optimizations must be implemented immediately.
Experience Essemtec live pick & place and dispensing processes with FOX equipment on a revolutionary 3D design which combines full 3D-wiring and NFC functionality. This is a brilliant application to control the digital footprint!
AME is a worldwide new solution for creating innovative electronic circuits through the jet process of printed circuit boards and the integration of embedded components.
Nano Dimension pioneered Additively Manufactured Electronics (AME) with DragonFly, a multi-material 3D printing system able to craft functional circuit boards and electronic devices within hours.
Nano Dimension's one-of-kind 3D electronics printing capability is made possible by inkjet deposition of both metal and polymer materials simultaneously.
Together, these breakthrough solutions are transforming the industry by removing the old constraints on design and production.
We will have experts steeped in knowledge of both divisions, at AME machines as well as at the latest dispensing technologies available at the show. See you soon!
For more information about Essemtec, please visit www.essemtec.com
Watch the below for more information about Nano Dimension or visit www.nano-di.com