Koh Young Technology, the industry-leader in True 3D measurement-based inspection solutions, is proud to announce its KPO Printer technology earned the Mexico Technology Award for Process Control Software from Mexico EMS. We accepted the award from Ronald Friedman, Publisher of Mexico EMS, during the SMTA Guadalajara Expo and Tech Forum in Jalisco, Mexico on September 2022.
Product miniaturization is driving smaller apertures, finer solders, and complex designs, which makes printing a sophisticated process with significant impact on yield. Typically, print process expert must constantly adjust print parameters to ensure a stable process. Yet, Koh Young is driven to create an autonomous, connected electronics manufacturing environment for defect-free production using its growing suite of AI-powered process optimization tools.
The latest solution is KPO Printer (Koh Young Process Optimizer for Printers), which uses a proprietary Artificial Intelligence (A.I.) engine we developed locally to help machines solve print process challenges. KPO Printer exercises complex algorithms to diagnose issues, recommend parameters, and improve print quality. With our own AI and Machine Learning tools, KPO Printer:
analyzes relationships between programs and print parameters to determine if the current printer settings can facilitate a printer DOE,
optimizes the print process with real-time printer and Solder Paste Inspection (SPI) data correlation to recommend ideal process parameters, and
provides real-time performance diagnostics with anomaly detection algorithms to identify and alert users about process issues and trends.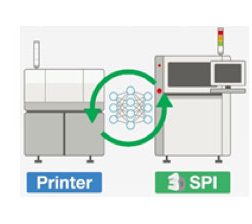 "In short, KPO Printer defines the optimal parameter settings and eliminates the need for trial-and-error experiments", commented Ray Welch, a Senior Applications Engineer at Koh Young. KPO Printer uses active communication between the printer and SPI to implement necessary process changes in real-time. "We make print process optimization easy. Our AI-powered solution delivers automated process reliability and consistency, allowing manufacturers to achieve greater productivity and efficiency. KPO Printer is the evolved solution for process reliability without expertise."
To learn more about how our KPO Printer technology can increase your quality, visit us at the SMTA Guadalajara Expo in booth 425 or at the SMTA International Expo in Minneapolis, Minnesota in booth 925 between 01-03 November 2022. If you cannot attend the panel, but still want to learn more about smart manufacturing and our best-in-class portfolio of True 3D solutions, vis our site at kohyoungamerica.com.