MacDermid Alpha Electronics Solutions, a global supplier of integrated solutions from our Circuitry, Assembly and Semiconductor divisions, will present its High Performance Solder Alloys for Automotive Applications at the International Conference and Exhibition on High Temperature Electronics Network (HiTEN) in Oxford, UK from the 18th-20th July.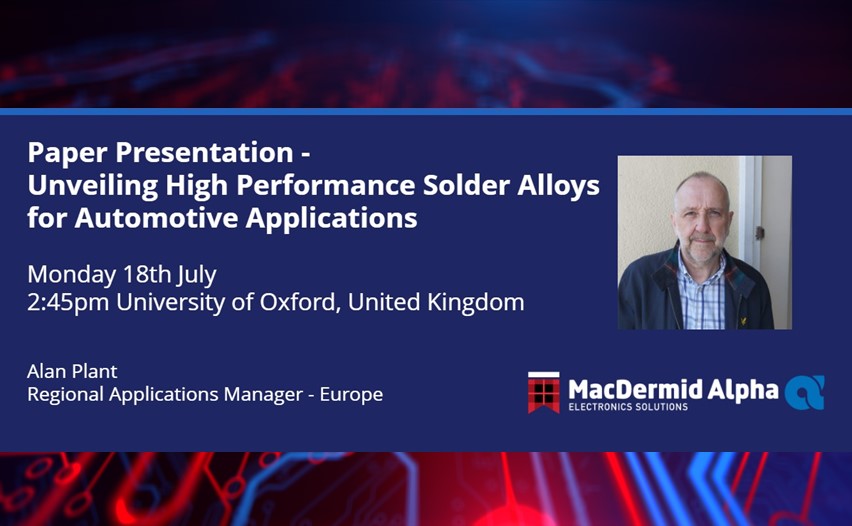 Alan Plant, Regional Applications Manager – Europe, will deliver the paper 'Unveiling High Performance Solder Alloys for Automotive Applications' during the conference. Automotive powertrain related electronics systems are regularly exposed to high temperatures (>120°C) and vibration. Joining materials used in these systems must exhibit the highest level of mechanical reliability under these harsh conditions. The paper will discuss the latest advances in high performance solder alloys designed to maintain high electrochemical reliability and high thermal and electrical conductivity in these extreme temperature and vibration conditions.
MacDermid Alpha's range of high reliability solutions for automotive applications includes; solder paste chemistries and solid solders designed for resistance to both thermo-mechanical fatigue and electrochemical migration, leading high reliability adhesives, underfills and edgebonds which provide significant mechanical reinforcement to soldered components, and Conformal Coatings that offer high levels of resistance to humidity and condensation as well as resisting the most extreme thermal shock conditions.
The HiTEN Conference is a unique forum bringing together researchers and practitioners in academia and industry, focused on all styles of practical high temperature electronics design and implementation approaches. Alan Plant's presentation will take place on Monday 18th July at 2:45pm.
For more information on HiTEN and to register for the conference please click here. To learn more about MacDermid Alpha's high performance solder alloys please visit MacDermidAlpha.com