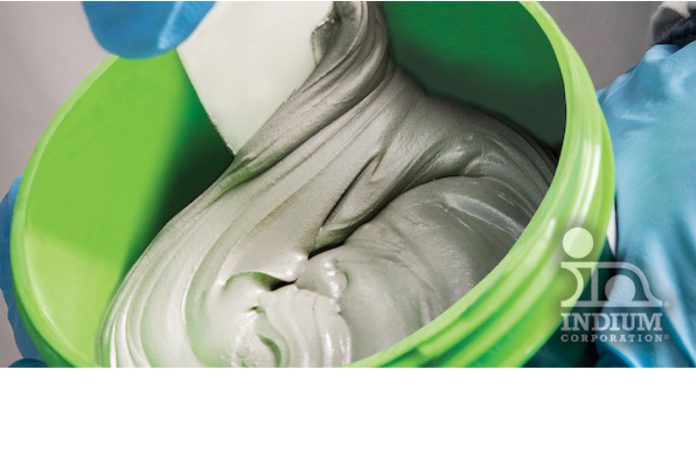 Indium Corporation® will showcase its innovative Durafuse™ technology at the EPP InnovationsFORUM on Tuesday, June 28 in Leinfelden-Echterdingen, Germany.
The harmful effects of lead on human health and the environment are driving the development of high-temperature lead-free (HTLF) solders to replace high-Pb solders for die-attachment and clip-bond in power device applications. Indium Corporation's innovative Durafuse™ HT features a novel design based on a mixed-alloy technology, designed to deliver a tin-rich HTLF paste, presenting the merits of both constituent alloys. Durafuse™ HT delivers:
Simplified processing; Durafuse™ HT is a drop-in replacement for high-Pb solder, with no special equipment needed and minimal process adjustments
Enhanced thermal cycling reliability; equal or higher than high-Pb solder
Lower RDS(on) compared to high-Pb solder
Indium Corporation's award-winning Durafuse™ LT is a patented low-temperature alloy system designed to provide high-reliability in low-temperature applications that require a reflow temperature below 210°C. Durafuse™ LT delivers:
Improved drop shock performance more than two orders of magnitude better than Bi-containing low-temperature materials
Drop shock performance equal or better than SAC305 with proper process optimization
Ideal characteristics for step soldering and low-temperature requirements
About Indium Corporation
Indium Corporation® is a premier materials refiner, smelter, manufacturer, and supplier to the global electronics, semiconductor, thin-film, and thermal management markets. Products include solders and fluxes; brazes; thermal interface materials; sputtering targets; indium, gallium, germanium, and tin metals and inorganic compounds; and NanoFoil®. Founded in 1934, the company has global technical support and factories located in China, Germany, India, Malaysia, Singapore, South Korea, the United Kingdom, and the U.S.
For more information about Indium Corporation, visit indium.com or email jhuang@indium.com. You can also follow our experts, From One Engineer To Another® (#FOETA), at linkedin.com/company/indium-corporation/ or @IndiumCorp.
About EPP InnovationsFORUM
The EPP InnovationsFORUM is the leading, independent event in the field of manufacturing electronic assemblies. Click here to learn more.