Yamaha Motor Robotics SMT Section is to supply 15 YRM20 placement machines to Derby-based design and manufacturing services specialist Pektron. The agreement represents the first YRM20 installations in the UK and one of the largest orders so far for Yamaha's new flagship component-mounting system.
The new machines are upgrading five surface-mount assembly lines at Pektron's centre of operations, increasing total placement capacity and adding support for the latest component types. Their arrival extends the long-standing partnership between Yamaha and Pektron, which currently has a fleet of Yamaha Sigma G5 and G5s mounters.
Ian Harpham, Pektron's Manufacturing Director said, "Our customers are operating at the leading edge in highly competitive markets, including e-vehicles, safety, off-highway, construction and consumer electronics.  Investing in the YRM20 machines reinforces our ability to deliver industry-leading electronic design and manufacturing services, and working with Yamaha will enable us to accelerate our growth in these areas."
Yamaha's YRM20 is available in 1-beam and 2-beam configurations. Optional placement heads include the general-purpose RM rotary head that boosts productivity by handling component sizes from 0201 to 12mm x 12mm. It places parts at up to 115,000 components per hour (cph) when combined with the new high-speed feeder. Further advanced features include component-recognition cameras with flexible imaging modes and low-impact nozzles that can mount ultra-small components in narrow spaces.
Pektron selected the YRM20 as the natural succesor to the Sigma G5, as John Smedley, Pektron's Maintenance Manager, explained. "Since our first G5 mounters were installed, we have experienced near faultless performance meeting our medium-volume, high-mix production requirements. They are now approaching the end of their service life and we will be sad to see them go. We will continue to operate the later G5s machines and we are excited to start the next chapter in our connection with Yamaha as we introduce the advanced YRM20 to our surface-mount lines."
Yamaha will install the 15 YRM20 mounters during the remainder of 2022 and Q1 2023. Pierre Williams, Area Sales Manager for Yamaha, commented, "Pektron has committed to extending the successful collaboration between our companies. We are looking forward to continuing our support and helping the team maximise the return on their investment in our latest technology."
Riccardo Fiocchi, Key Account Manager at Yamaha, added, "By transitioning from the proven and respected G5 to our YRM20, Pektron can take advantage of the very best technologies from the preceding Sigma and YSM platforms, now upgraded to deliver industry-leading capabilities."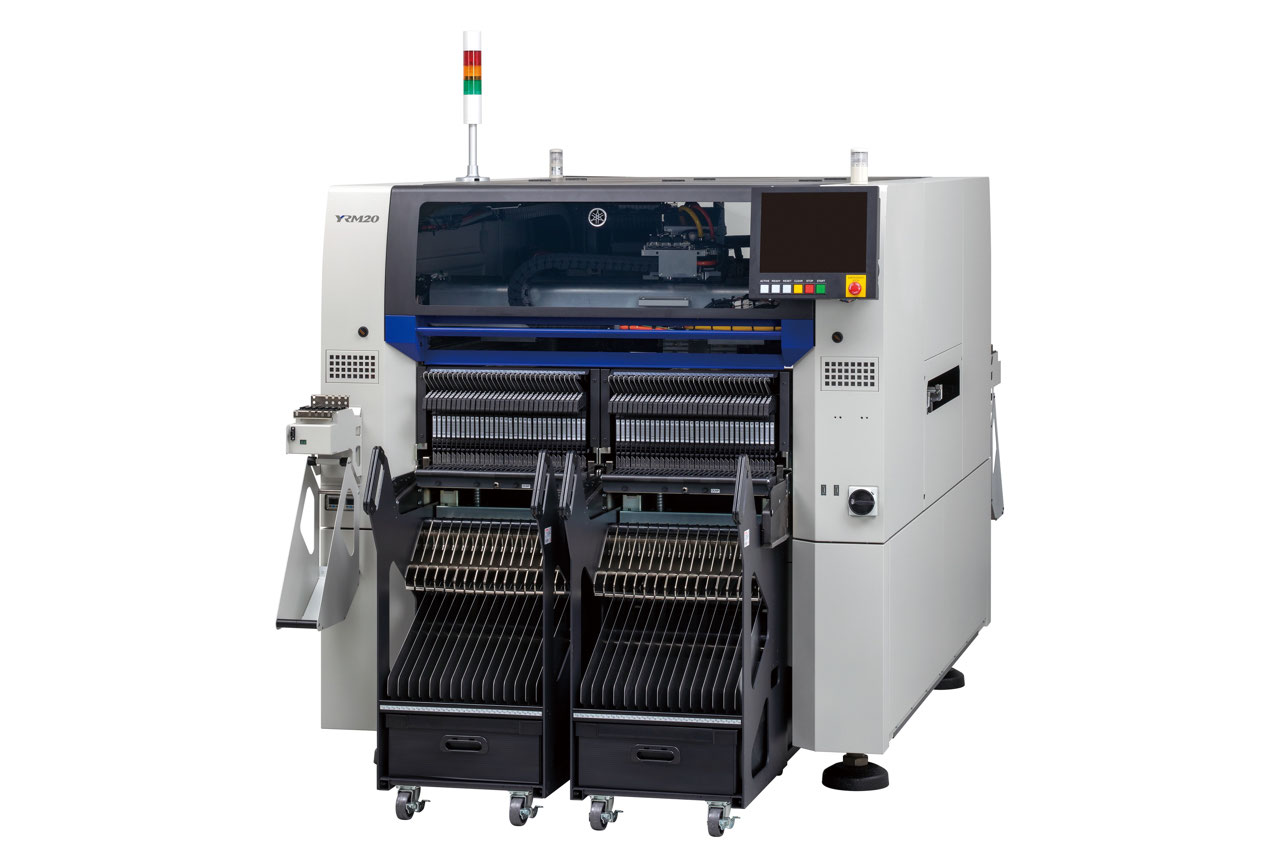 The YRM20 leverages the Sigma G5 platform's overdrive motion principle, which manages the positional control of both heads in a two-head setup to maximise productivity. Adding to this, the YRM20 has new tray feeders that simplify refilling and allow non-stop production. It can handle boards up to 810mm long, which allows populating specialist boards including large LED arrays. There is also a new state-of-the-art graphical user interface (GUI) that simplifies setup and operation, automatic component-height teach, automatic component-data creation, and high-speed smart recognition that quickly creates data for any custom components.
In addition to offering advanced built-in features, the YRM20 is compatible with Yamaha's new YSUP intelligent factory software applications. In addition to tools for programming and scheduling, smart setup and material control, there are packages for data connectivity with AI vision support, advanced machine-to-machine (M2M) collaboration, and a graphical monitoring dashboard with live performance and production analytics.
For more information, please visit the website at https://smt.yamaha-motor-im.de/.
For more information about Pektron, please visit https://www.pektron.com/ 
About Yamaha Robotics SMT Section
Yamaha Surface Mount Technology (SMT) Section is a subdivision of Yamaha Motor Robotics Business Unit in Yamaha Motor Corporation. Yamaha surface mount equipment is highly acclaimed in the market for their "module concept" that enables them to keep pace with the trend toward smaller and more diverse electric/electronic parts being mounted on circuit boards.
Yamaha SMT Section has created a strong business in the surface mount industry that enables design and engineering, manufacture, sales and service to be conducted in one comprehensive system. Furthermore, the Company has used its core technologies in the areas of servo-motor control and image recognition technology for vision (camera) systems to develop solder paste printers, 3D solder paste inspection, 3D PCB inspection machines, flip chip hybrid placers, dispensers and intelligent SMD storage system. This allows Yamaha SMT Section to offer a full line of machines for electric/electronic parts mounting and propose optimum production-line makeup to answer the diversifying needs of today's manufacturers.
Yamaha SMT Section has sales and service offices in Japan, China, Southeast Asia, Europe and North America provide a truly global sales and service network that will safeguard best in class on-site sales & service support for clients.