Weller Tools, the world's No.1 brand in hand soldering solutions, offers a Replacement Main Filter for the Zero Smog 4V to provide continually clean air for the workplace.
Ideal for soldering, laser and gluing applications, the Main filter is comprised of a HEPA class H13 particle filter and granulated media. It contains 2,2kg of granular media composed of 50 percent Activated Carbon, 50 percent KMnO4 (Potassium Permanganate). This 50/50 mixed media is very versatile and is effective with many more gases than just activated carbon on its own.
The replacement filter includes a small silicone hose and connector. This is used by the Zero Smog 4V to measure differential pressure through the filter to indicate when the filter is full.
The filter also fits Zero Smog EL and TL filtration units as a performance upgrade to the standard filters found in those units.
The life of a main filter is extended by using it in conjunction with prefilters. Prefilter packs and the Main filter also can be purchased as a set for convenience and at a reduced price (part number FT91000042).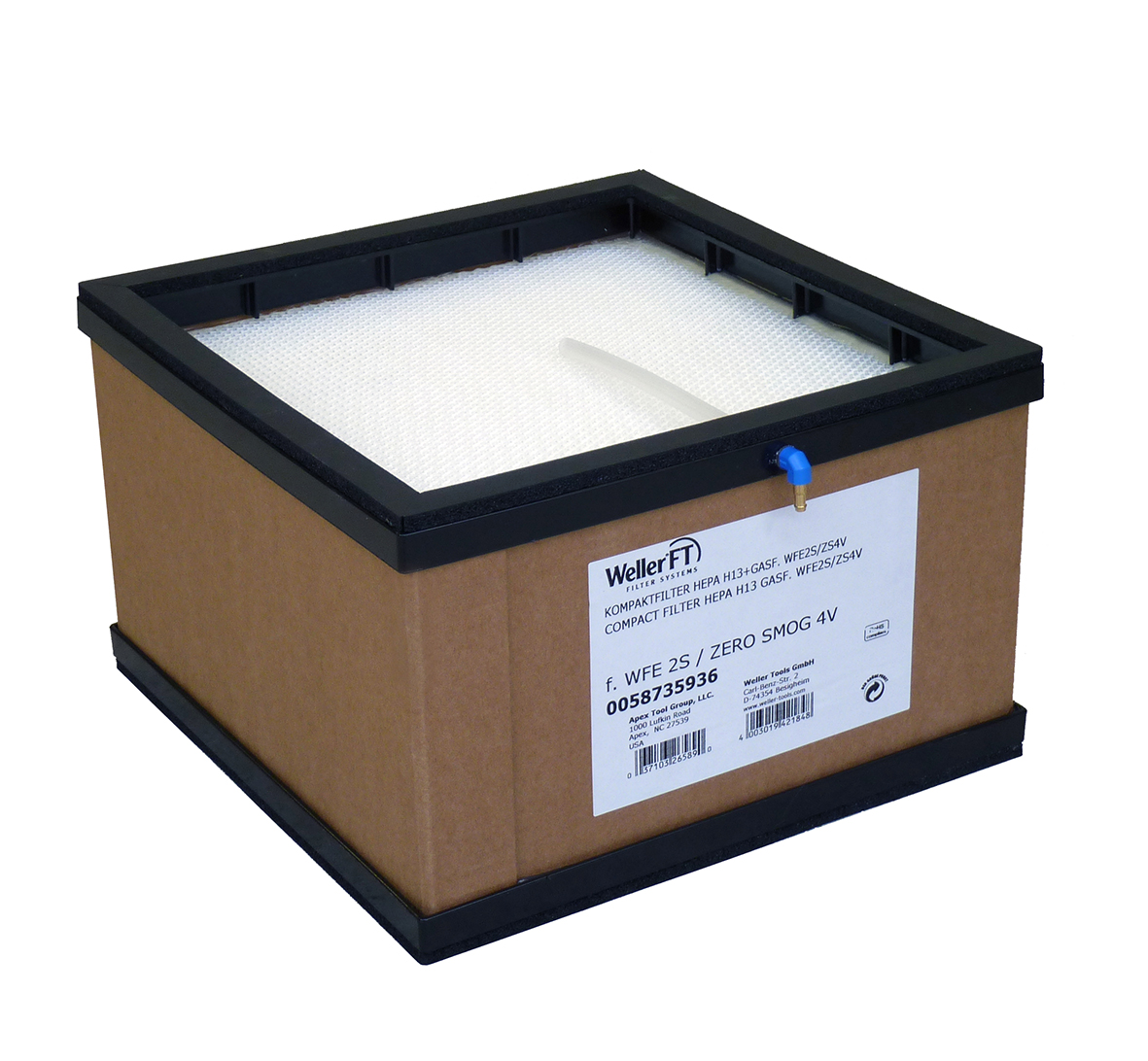 About Weller Tools
The Weller name stands for pioneering solutions on and around the soldering bench. Founded in 1945, the company quickly grew to become the market leader in its segment. Weller's extensive range of products includes innovative solutions for industry and trade. The company's areas of expertise include conventional soldering technology, extraction systems, precision tools and solutions involving screws, bolts and robots as well as many other benchtop products and services.
Weller Tools is part of the umbrella company Apex Tool Group, LLC. Apex Tool Group, LLC, headquartered in Sparks, Maryland, is a leading global manufacturer and supplier of high performance hand and power tools, tool storage, drill chucks, chain and electrical soldering products for industrial, commercial and demanding do-it-yourself applications. ATG designs, manufactures, markets, and sells proprietary brands, including GEARWRENCH®, Crescent®, SATA®, Cleco®, Weller®, and APEX® and also designs and manufactures a number of private label tool brands for retailers. ATG sells its products through direct, retail, professional and trade channels to customers in over 115 countries, and serves a multitude of global markets, including automotive, aerospace, electronics, energy, hardware, industrial, and consumer retail.
Learn more at www.apextoolgroup.com.