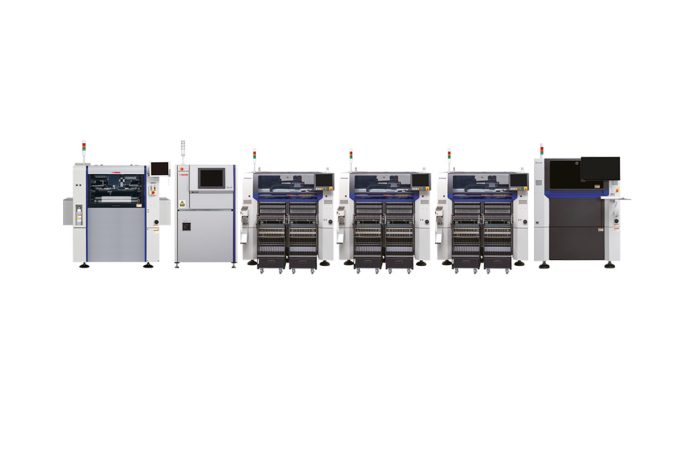 Yamaha Motor Robotics SMT Section will show how its 1 STOP SMART SOLUTION is ready to power high-speed, high-quality intelligent manufacturing, at SMTconnect 2022 in Nuremberg.
Visitors seeking inspiration to tackle emerging opportunities can see all aspects of advanced inline assembly brought together, including mounting, screen printing, and inspection. The 1 STOP SMART SOLUTION, unified, controlled, and coordinated through Yamaha's state-of-the-art YSUP software tools, raises productivity and quality to new levels.
Yamaha's home for the exhibition, and the place to see it all for real, is booth 319 in hall 4. The advanced YSP10 printer's revolutionary design enables fully automated changeovers, saving time and minimising operator intervention. The YSi-SP solder-paste inspection systems provides highly accurate, high-speed 3D paste inspection to assess each board and monitor the print process to ensure perfect boards always and every time.
Two YRM20 next-generation mounters will be on the booth, engineered for versatile productivity. Features including the rotary head, high-speed head, and flexible multi-head options serve diverse manufacturing requirements and Yamaha's innovative low-impact nozzles place small components accurately. With maximum throughput of 115,000 cph and features like the eATS non-stop tray feeder, the YRM20 handles everything from small batches to high-volume, low-mix assembly.
The YRi-V is Yamaha's latest and most powerful AOI system, with increased lens resolution and multi-angle projectors to overcome common challenges to visual inspection. Component recognition and pass/fail judgement powered with AI enhance speed and repeatability. Inspection programs are automatically generated using free and open YSUP software tools, saving time and labour. YRi-V thus brings the superior speed and stability of Yamaha's inspection technology to any surface-mount line.
Two dedicated demonstration booths will let visitors explore the full features of the YSUP tools for inspection support and for managing the complete 1 STOP SMART SOLUTION.
Yamaha technical experts and sales engineers will be available at the booth throughout the event to explain how these innovative equipment solutions and software tools support intelligent manufacturing to boost productivity and quality.
For more information, please visit the website at https://smt.yamaha-motor-im.de/.