Yamaha Motor Europe Robotics Division has introduced advanced, new solutions for surface-mount assembly at Productronica 2021 in Munich, where the electronics industry gathered to discover new technologies.
"We are delighted that we welcomed many visitors this year, who came to Yamaha seeking solutions to forthcoming challenges." said Daisuke Yoshihara, Sales General Manager at Yamaha Motor Europe, Robotics Division. "We continued to support our customers and developed new products during the pandemic and we were happy to showcase our latest innovations to respond to the market's needs."
Yamaha's highlight at Productronica 2021, the new YR-series placement and inspection platforms, are featured for data-driven manufacturing to increase productivity and drive product and process improvement. They drastically accelerate programming and setup, significantly reduce cycle time, and deliver unprecedented accuracy when placing the smallest components.
Visitors saw the new YRM20 next-generation mounter with its advanced rotary placement head and low-impact nozzles, state-of-the-art motion control, enhanced vision, and innovative options. They also witnessed the new YRi-V AOI, which makes Yamaha's superior inspection accuracy accessible to customers using any type of SMT equipment. Displayed alongside the new Yamaha YR platforms in the One Stop Smart Solution, the latest YSP10 premium printer introduces a high-speed board transport and new options that minimise human intervention, accelerate cycle time, and raise productivity.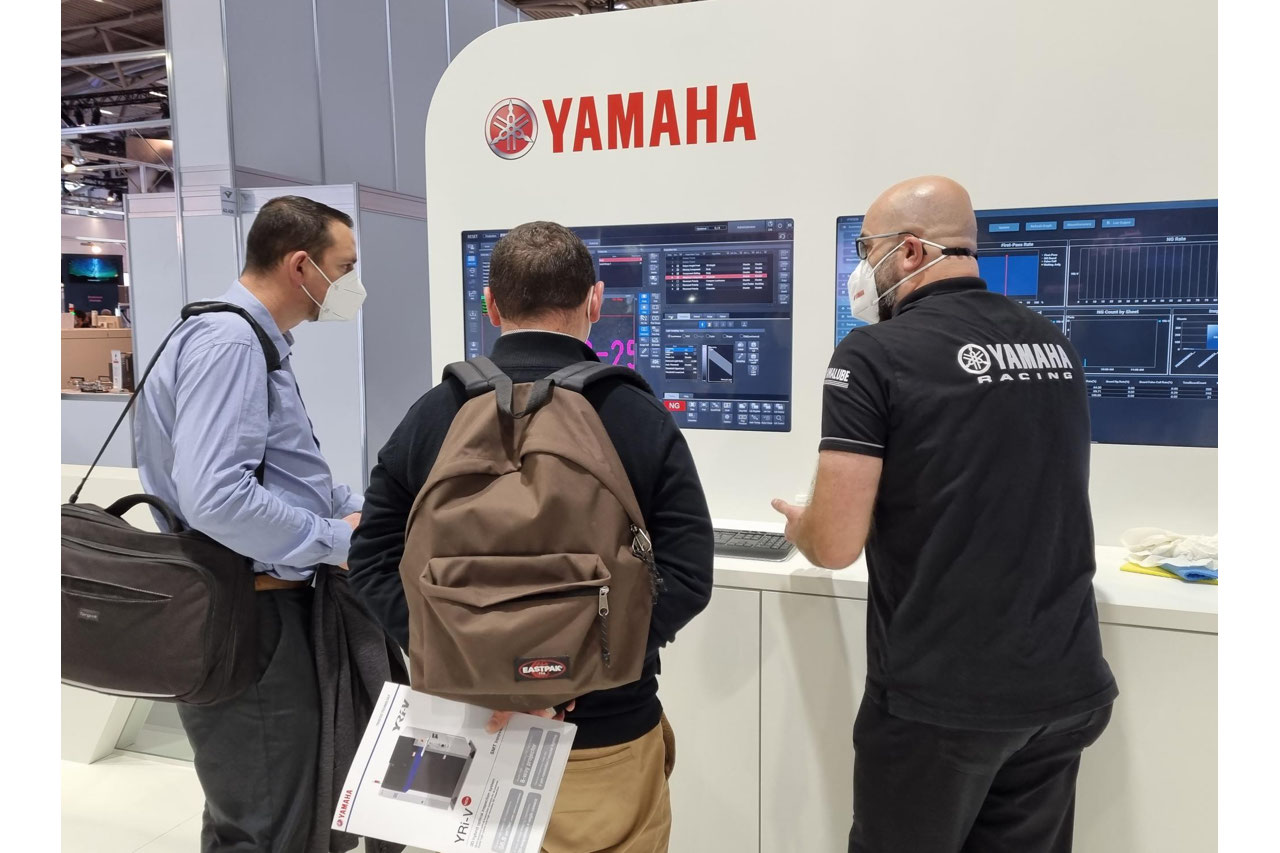 Visitors also saw how advanced software tools such as the customisable Production Analytics Dashboard and the new Yamaha Intelligent Factory data communication platform support smart manufacturing and provides live machine status, advanced process control (APC), live traceability, and two-way verification. Furthermore, they discovered the benefits of the new YSUP software platform that simplifies control of equipment and processes to monitor performance and enable continuous improvement.
Additionally, Yamaha demonstrated the YK-XE SCARA series and linear conveyor modules showing how electronic manufacturers can now automate repetitive tasks using affordable robot technology. The LCMR200 highlights flexibility, simplicity, and efficiency for transporting parts on an assembly line or within a cell. Yamaha's competitively priced YK-XE SCARA robots, available in various sizes from 400mm to 710mm arm length, showed how to make light work of packaging-related tasks and assembly processes.
For more information please visit smt.yamaha-motor-im.de/
About Yamaha Robotics SMT Section
Yamaha Surface Mount Technology (SMT) Section is a subdivision of Yamaha Motor Robotics Business Unit in Yamaha Motor Corporation. Yamaha surface mount equipment is highly acclaimed in the market for their "module concept" that enables them to keep pace with the trend toward smaller and more diverse electric/electronic parts being mounted on circuit boards.
Yamaha SMT Section has created a strong business in the surface mount industry that enables design and engineering, manufacture, sales and service to be conducted in one comprehensive system. Furthermore, the Company has used its core technologies in the areas of servo-motor control and image recognition technology for vision (camera) systems to develop solder paste printers, 3D solder paste inspection, 3D PCB inspection machines, flip chip hybrid placers, dispensers and intelligent SMD storage system. This allows Yamaha SMT Section to offer a full line of machines for electric/electronic parts mounting and propose optimum production-line makeup to answer the diversifying needs of today's manufacturers.
Yamaha SMT Section has sales and service offices in Japan, China, Southeast Asia, Europe and North America provide a truly global sales and service network that will safeguard best in class on-site sales & service support for clients.