At the core of all exhibits on the Europlacer stand (A3-215) at this year's Productronica event is a distinct focus on the IPC CFX Standard, with the company promoting its own compliance as an early adopter and encouraging certification to other participants across the surface mount assembly sector.
Europlacer's new ii-A1 and ii-A2 pick & place modules were the first placement machines to be CFX certified by the IPC earlier in 2021, signifying that Europlacer's CFX support for these products meets the strict requirements for minimum "out of the box" capability that represents the most important data that SMT manufacturers need. In addition to these new modules, Europlacer has now achieved CFX certification for its ii-A3 and ii-A4 machines in the atom platform range as well as the renowned iineo+ I (single turret head) and iineo+ II (twin-turret head) machines.
As a founder member of the IPC Connected Factory Exchange committee and a keen contributor of technical knowledge to the Standards team, Europlacer sees the open, collaborative nature of the CFX Standard as the optimum way forward for all electronics manufacturers. It ensures compatibility between equipment from different vendors in a production ecosystem, rendering often-cumbersome proprietary interfaces and communications protocols unnecessary.
As a recognized subset of Industry 4.0 targeted at all companies regardless of size or industry sector, CFX delivers plug & play capabilities across multiple applications that benefit from the exchange and contextualization of data as well as the physical interconnection between machines. Among Europlacer's CFX solutions on the Productronica stand will be its new ii-Tab – a mobile digital management tool that encompasses the entire production facility, combining applications that give immediate control and instant notifications to help drive productivity.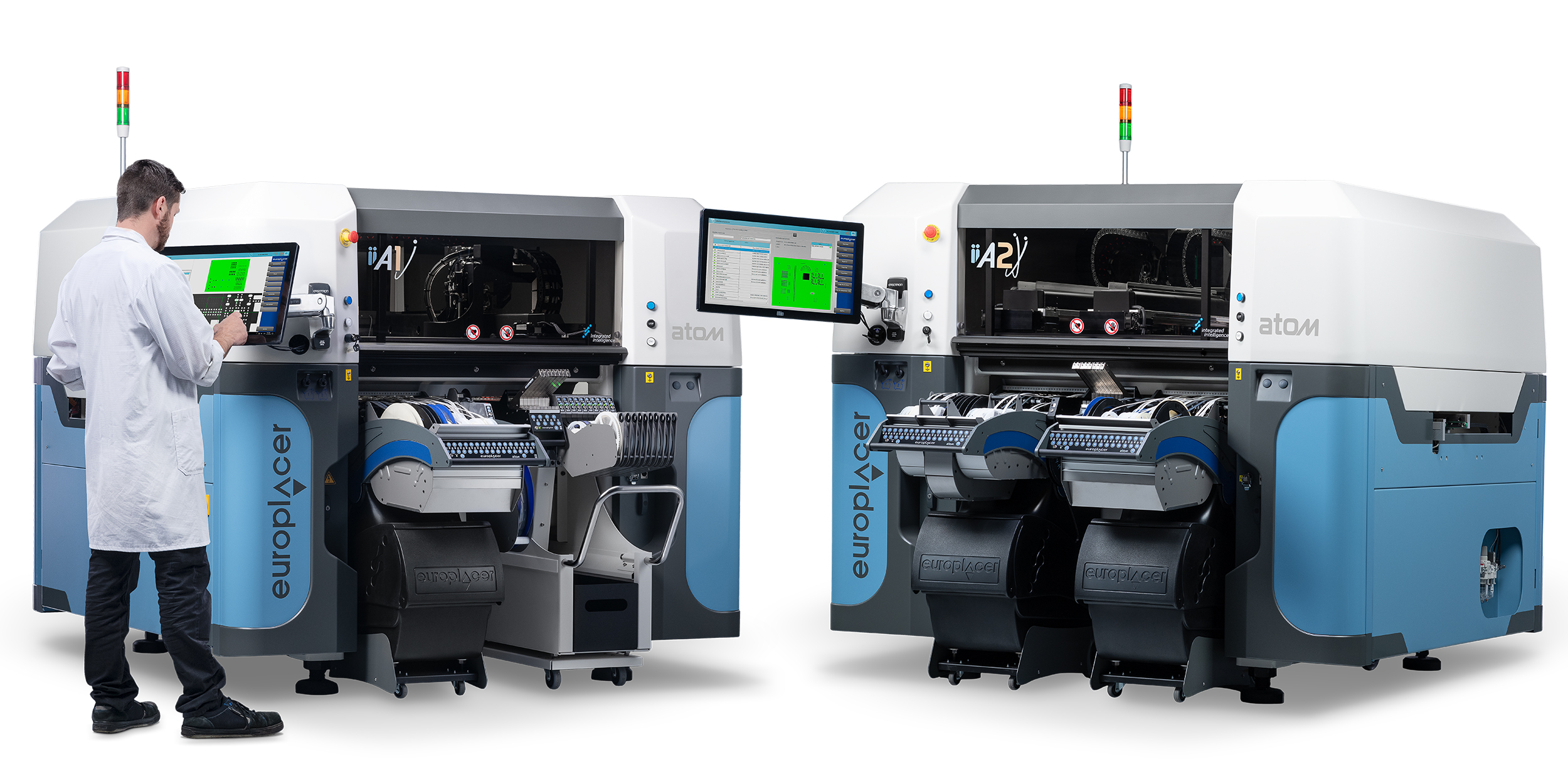 Europlacer Equipment on Show.
On Stand 215 in Hall A3, Europlacer will exhibit both of its new intelligent CFX-certified placement modules that complete the company's atom platform range: the ultra-flexible ii-A1 and the high-speed ii-A2. Both integrate seamlessly in line with other Europlacer platforms to boost placement productivity, and both feature a patented intelligent conveyor with board stops under full software control to handle boards over one meter (39 inches) in length despite the compact module format.
The versatile ii-A1 features a single Tornado turret head and can be deployed for specific SMT assembly duties or as a fully featured module offering placement speeds up to 15,000cph to boost yields.
The high-speed ii-A2 module is equipped with a pair of Europlacer's Pulsar pipette heads and is designed to operate as a chipshooter for line balancing by taking on workload duties from other Europlacer machines in the line. It offers placement speeds up to 50,000cph for devices down to 01005 in profile.
Europlacer's iineo+ placement machine, the current version of the company's popular iineo platform range with a global track record of exceptional flexibility in high-mix assembly applications, will also be on the Productronica stand. With 264 x 8mm feeders, the on-machine inventory capacity of the iineo+ is only equalled by Europlacer's ii-A3 and ii-A4 machines from its atom platform range.
The Europlacer EP710 fully automatic screen printer will be on display and available for demonstrations. The EP710 offers a host of automated features including auto stencil load and unload, closed-loop print head control, dual roving cameras, laser-guided board support tooling, integrated stencil cleaning and optional Advanced Dispense Unit (ADu+) functionality for paste or glue. It also supports S-Track for process-wide traceability.