Scienscope International, a leading American supplier of cabinet-style micro-focus X-ray systems, will exhibit at the SMTA International Exposition, scheduled to take place Nov. 3-4, 2021 at the Minneapolis Convention Center in Minneapolis, MN. The team will showcase the Incoming material system (IMS-100) and AXC-800 III Component Counter, and introduce the new Smart Storage Rack in Booth #3139.
The Scienscope Smart Storage Rack is the easiest, most accurate, way to store your electronic components. Works best when integrated with a Scienscope Component Counter and IMS Systems or Desktop Reel Scanner. Not only will you have a precisely accurate inventory with a unique ID number you will also know exactly where they are stored for quick location and use.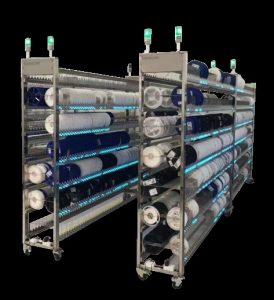 The Smart Storage Rack is robustly built with stainless steel and ESD caster to easily move around to the desired location.  Free ERP and MES System integration with auto slot assignment by an LED light.  Allows for 1400 of 7" reels or 480 of 13" reels to be easily and safely stored.  Scienscope also offers customization based on your facility needs.
The IMS-100 features a high-resolution barcode camera system with an image-based algorithm that reads any barcode, even with defects. It reads and stores the information of four 7" reels simultaneously. As one reel is removed, a unique identification number label is printed, archiving reliable data that can be easily and conveniently traced.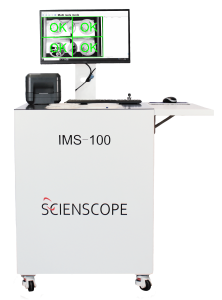 The IMS-100 allows for EMS/ERP integration in seconds. It captures multi-codes quickly and without errors, allowing seamless integration of any material. Additionally, it helps automate the incoming goods process and boosts productivity dramatically.
The Scienscope AXC-800 III makes inventory management and component counting even faster, more accurate, and easier than ever before. Place reels in the system, close the door, and the count begins automatically. Within 23 seconds the AXC-800 III Component Counter completes the task of counting four 7" reels and within 16 seconds it completes the task of counting 1 large 13"-15" reel. This system features an internal barcode scanner and a reel removal sensor for automatic label printing.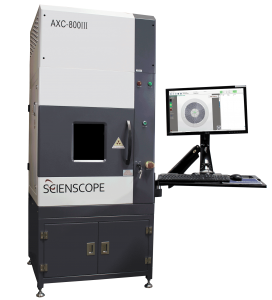 Scienscope component counters can help save time, save money, reduce labor, and avoid the dreaded "line down" scenario due to lack of a component. Visit Booth #3139 during SMTA International to learn how!
For more information, please email Scienscope at info@scienscope.com, call 1-800-216-1800 or visit www.scienscope.com.