Applications such as LED lighting or 5G antennas can be manufactured more easily if the solder paste is printed with longer SMT stencils. The newly presented LPKF StencilLaser G 60120 increases the length of the cut stencils from 800 mm to 1200 mm without manual repositioning.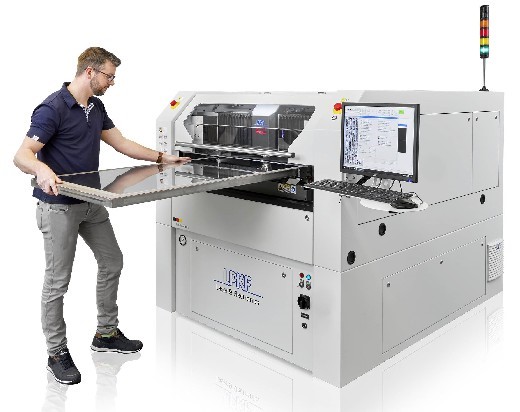 For solder paste stencils precise apertures of any shape are cut in metal foils – mostly made of stainless steel. Using these stencils, the required contact points on carriers of electronic components are precisely printed with solder paste for the subsequent soldering process.
New applications require new dimensions. The LPKF StencilLaser G 60120 is based on the field-proven G 6080 platform. It increases the cutting area from 600 mm x 800 mm to 600 mm x 1200 mm – with the same high level of precision. The axis tolerances in the system are just +- 2 µm. It processes thin foils from 20 µm or thin sheets up to a thickness of one millimeter. A powerful laser source and special carbon fiber axles ensure high performance and economy.
The system has automatic cutting gas management as standard. Thanks to the SMEMA interface, the StencilLaser can be easily automated.
With the help of the automatic frame tensioning device, framed stencils in pneumatic tensioning frames or loose stencil panels can be processed without the need for manual retooling.
Thanks to the LPKF EasyEdit software, adjusting individual apertures or entire groups is easy. The software supports product setup with extensive process and material libraries from more than 30 years of experience.
The new system is also available with the "MicroCut" equipment. This variant specializes in particularly fine apertures and even higher demands on the cutting quality.
About LPKF
LPKF Laser & Electronics SE is a leading provider of laser-based solutions for the technology industry. Laser systems from LPKF are key elements in the manufacturing of printed circuit boards, microchips, automotive parts, solar modules, and many other components. Founded in 1976, the company is headquartered in Garbsen, near Hannover, Germany, and has subsidiaries and representative offices throughout the world. Around 20 percent of the workforce is engaged in research and development.