Additive electronics will reshape SMT assembly as well as PCB manufacturing, helping the industry achieve applications, shapes, functions, performance levels, and sustainability degrees which were previously considered impossible. Indeed, the future of electronics is additive and printed.
(Free-to-Attend) We invite engineers, researchers, entrepreneurs, inventors, and end users from around the world and from across the value chain to join 600+ participants, 65+ live presenters, and 50+ exhibitors online on 22 June at this immersive TechBlick Innovation Festival. Khashsa Ghaffarzaden, CEO of TechBlick said "This will be the largest virtual gathering of the global printed and additive electronics. community". You can register for free here
Learn the latest technical advances in 65+ live talks
Stay informed about latest application developments
Visit over 50 hosted booths using your avatar as though it was an onsite event
Network with hundreds of industry partners in round-robin speed dating sessions
Leading Global Speakers Include: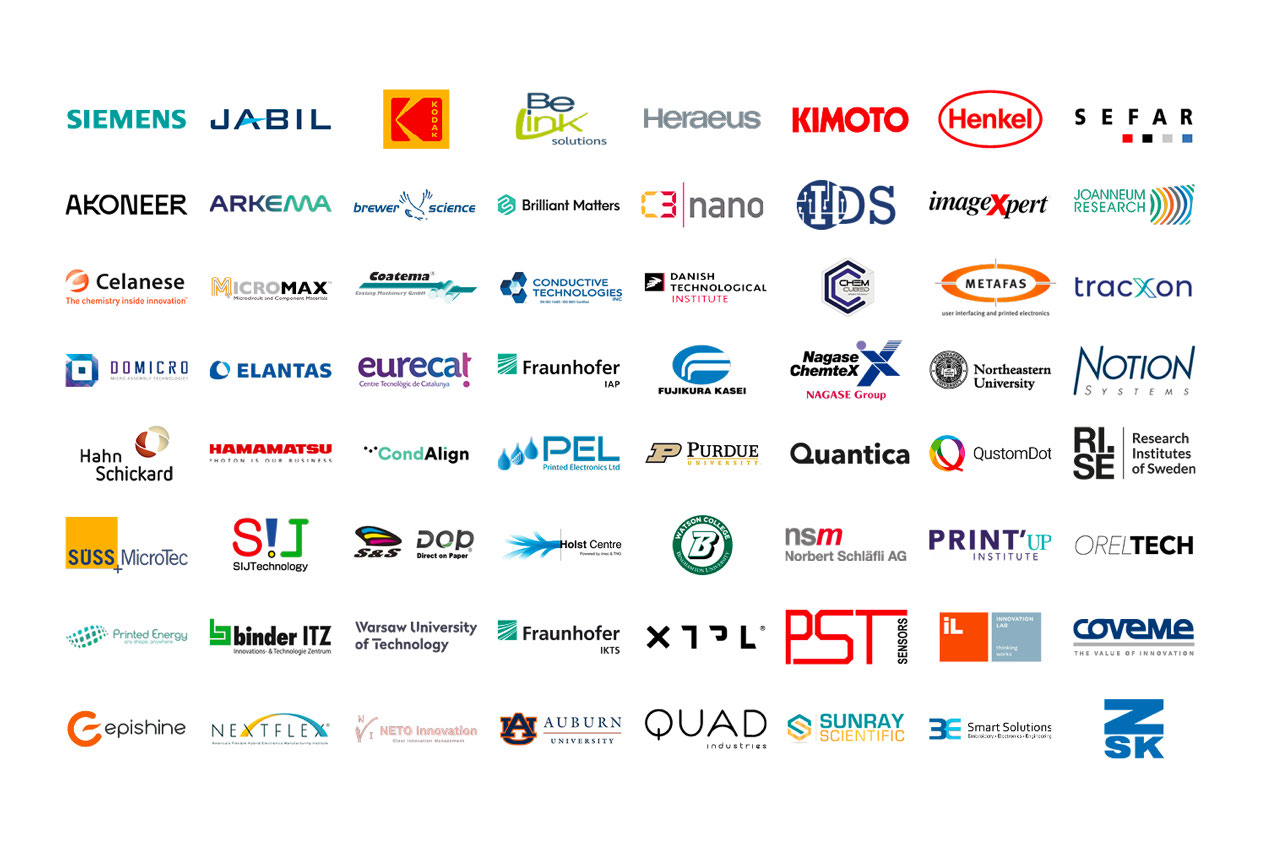 22 JUNE | Track 1
Sij Technology | The potential of femtoliter-level droplet with super inkjet systems
QustomDot | Printed quantum dots (QDs) for microLED and display applications [TBC]
Fraunhofer IAP | Inkjet printable stretchable electrodes for organic electronic applications.
XTPL | Sub-micron ultraprecision printing for microelectronic packaging: advances and use cases [TBC]
SUSS MicroTec | Inkjet Printing in Electronics: Going from R&D to Industrial Manufacturing [TBC]
Hamamatsu | Laser Sintering – a sustainable and rapid post-process for high volume production
Speed Networking
Smooth & Sharp | Bonding Process of Flexible IC and Single Loop printed NFC Antenna
NSM Norbert Schläfli | Highly Scaled Gravure Printing
Joanneum Research | Sense your Future: your tailor-made solution using PyzoFlex®
OrelTech | Printed platinum and palladium? Really!
TracXon | Addressing the challenges in large-scale manufacturing of hybrid printed electronics
Conductive Technologies | How Far Can We Flex?
Purdue College of Engineering | Robust internet-of-thing devices for digital agriculture, food, healthcare and smart infrastructure
Exhibition 1
ELANTAS Europe | Functional Inks for thermoformable heaters in the field of InMold applications
Coatema | Sustainable & smart packaging New social and industrial challenges for printed electronics
Eastman Kodak | High-Resolution Flexography for the Manufacture of Transparent Heaters
Epishine | R2R Printed Organic Solar Cells: Powering the IoT revolution [TBC]
Coveme | Latest coating line: premises, challenges and outcomes [TBC]
Brilliant Matters | Materials Developments for Stable, Scalable and Efficient Organic Solar cells
Innovation Lab | PCBs: Additive manufacturing with copper interconnects and soldered joints[TBC]
Exhibition 2
DoMicro | Micro Assembly For SiC-Based Power Modules
Notion Systems | Industrial Inkjet Printing – Bringing Additive Manufacturing in the PCB industry [TBC]
binder ITZ | Digital Screen Printing: A Future Game Changer for Printed Electronics Manufacturing
Nagase | Recent Trends of Conductive Inks for Printed Electronics [TBC]
IDS | Ultrafine metallization of 3D surfaces and objects: pushing performance limits [TBC]
ImageXpert | New Inkjet Technologies for Printed Electronics
Exhibition 3
NextFlex | Flexible Hybrid Electronics: Overview of Latest Advances and Applications [TBC]
Bingham University | Flexible hybrid electronics: how to connect soft and hard electronics for wearable electronics [TBC]
Auburn University | Printed Copper With SMTs on Inkjet Metallization [TBC]
Jabil | Flexible Hybrid Electronics: Towards Manufacturing [TBC]
Siemens | Additive Electronics in the PCB industry [TBC]
Final Networking
NETO Innovation | Unlock your project's full potential with NETO Innovation
22 JUNE | Track 2
TNO at Holst | High-throughput digital printing: breaking resolution and viscosity limits with LIFT.02 technology [TBC]
Fujikura Kasei | Stretchable silicone-based conductive pastes for medical and wearable devices[TBC]
Danish Technological Institute | Sustainable Printed Electronics: why additive means greener electronics [TBC]
RISE Research Institutes of Sweden | Sustainable Electronics: how additive electronics manufacturing enables greener electronics [TBC]
PrintUp Institute | Development of wearable electronics based on printed additive electronics [TBC]
Warsaw University | Printed Electronics in Electronic Textiles [TBC]
Speed Networking
Eurecat | TBC
ZSK/3E Smart Solutions | Reliable Mass Production of E-Textiles by Using Embroidery Technology
Arkema | Printed Piezoelectric Materials: Real applications from wearable sensors to human-machine-interfaces [TBC]
Printed Electronics Ltd | Methods for Printed and Additively-Manufactured Electronics: "which one(s) should I use for my application"?
Quad Industries | Printed Electronics – a true booster for innovation in Wearables
PST Sensors | Beyond Printing Thermistors
Celanese | Time to Think Beyond Stretch in Wearable Electronics
Metafas | LED lighting and printed electronics: bringing efficient lighting to new surfaces [TBC]
Exhibition 1
Akoneer | Using SSAIL technology for fast development of flexible circuits
Fraunhofer IKTS | Advancements in multimaterial printing of hybrid ceramic-based components with machine learning based optimization approaches
Hahn-Schickard | With Digital Printing Technologies towards Sustainable Electronics
Quantica3D | Digital Screen Printing: A Future Game Changer for Printed Electronics Manufacturing
CondAlign AS | Room temperature bonding in printed and flexible electronics – realizing novel solutions with a focus on cost and sustainability
SunRay Scientific | Multilayer Silicon RF System-in-Package Technique Using Magnetically Aligned ZTACH® ACE
Henkel | Accelerating Innovation with Henkel's PTC Ink Solutions
Exhibition 2
Kimoto | Next Generation 3D Formable Substrates
BeLink Solutions | Looking for a printed electronics company?
Brewer Science | Arrays for On-Demand Water Quality Monitoring
Sefar | Innovations in screen making technologies, especially to support fineline screen printing [TBC]
Heraeus | New PTC Printed Carbon Resistor Pastes for Self-regulating Heaters
C3Nano | Unlocking the Full Potential of Silver Nanowires: Highly Conductive Inks and Composites
Exhibition 3
ChemCubed | New Innovations in Printing Dielectric Layers in Multilayer/Multimaterial for Additive Manufacturing of Electronics
Printed Energy | Printed Energy, any shape, anywhere
Northeastern University | Towards High-Performance Printed Electronics and Circuits
Final Networking
Printed electronics is a diverse technology with growing commercial successes in photovoltaics, displays & lighting, human-machine interfaces & smart surfaces, electronics & PCB manufacturing, advanced microelectronic packaging, automotive, wearables and healthcare, and beyond.
Explore the agenda now and register for free here