Test Research, Inc. (TRI) will join the SMTA Guadalajara Expo 2023 to showcase our award-winning Inspection solutions for the SMT industry. Visit booth #917 at the SMTA Expo Guadalajara from October 25 to 26, 2023, to experience the latest test and inspection innovations for the Electronics Manufacturing Industry.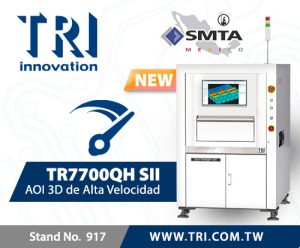 TRI will unveil the newly released Ultra-High-Speed 3D AOI, TR7700QH SII, able to inspect at speeds of up to 80 cm²/sec, maintaining uncompromised Gauge R&R. The TR7700QH SII is powered by TRI's Smart Programming, AI Algorithms, and Metrology measurement capabilities.
Furthermore, TRI will showcase the award-winning series 3D SPI TR7007QI Plus, Multi-Angle 3D AOI solution TR7500QE, and an Automated 3D X-Ray Inspection solutions demo.
Discover why the leading EMS companies choose TRI as their Test and Inspection Partner. Visit us at SMTA Guadalajara 2023 booth #917 for a personal demonstration of TRI's industry-leading One Stop Solution for PCB Assembly Testing and Inspection.
To learn more, visit www.tri.com.tw.