VERMES Microdispensing today announced the opening of its own subsidiary in India, VERMES Microdispensing India Private Limited, based in the country's IT capital, Bengaluru.
VERMES Microdispensing CEO Juergen Staedtler has long held an interest in India, and now the company is setting up a spacious sales and support office in India's 'Silicon Valley'.
Part of the move to India is linked to the government's push to bring high-tech manufacturing to the country.
The Indian government has continued to offer incentives to large technology companies through its "Make in India" initiatives and has attracted major international manufacturers including consumer electronics and automotive producers.
Several VERMES Microdispensing customers have recently made it a key part of their manufacturing strategy to establish production facilities in the world's second largest smartphone market.
Located at J.P. Nagar in the heart of Bengaluru, the new sales and service premises will be fully operational before the end of the second quarter of 2023.
This new site will be headed by Goutham Sharma and will start with a team of sales and support engineers who will work closely with the company's headquarters support and development center in Germany.
Goutham Sharma, Managing Director of VERMES Microdispensing India Pvt. Ltd. , said, "With our micro dispensing heritage and ground-breaking new products, we are well positioned to provide our customers with world-class expertise and service. We are excited about the opportunities this new facility will bring to our domestic and global customers."
"India has an incredible amount of energy, and we're delighted to set our own footprint in this market," VERMES Group CEO Juergen Staedtler added.
The aim is to be closer to VERMES Microdispensing's customers in India and to support them with a local presence, including a technical test laboratory and a fast service and support center.
"Global players in the electronics industry are investing in their business in India and ramp up their plans to expand their chipmaking factories and gadget production facilities in the South Asian market, which is slowly becoming a major hardware hub. I believe we have the right timing to catalyse this trend in our favour," Juergen Staedtler explained.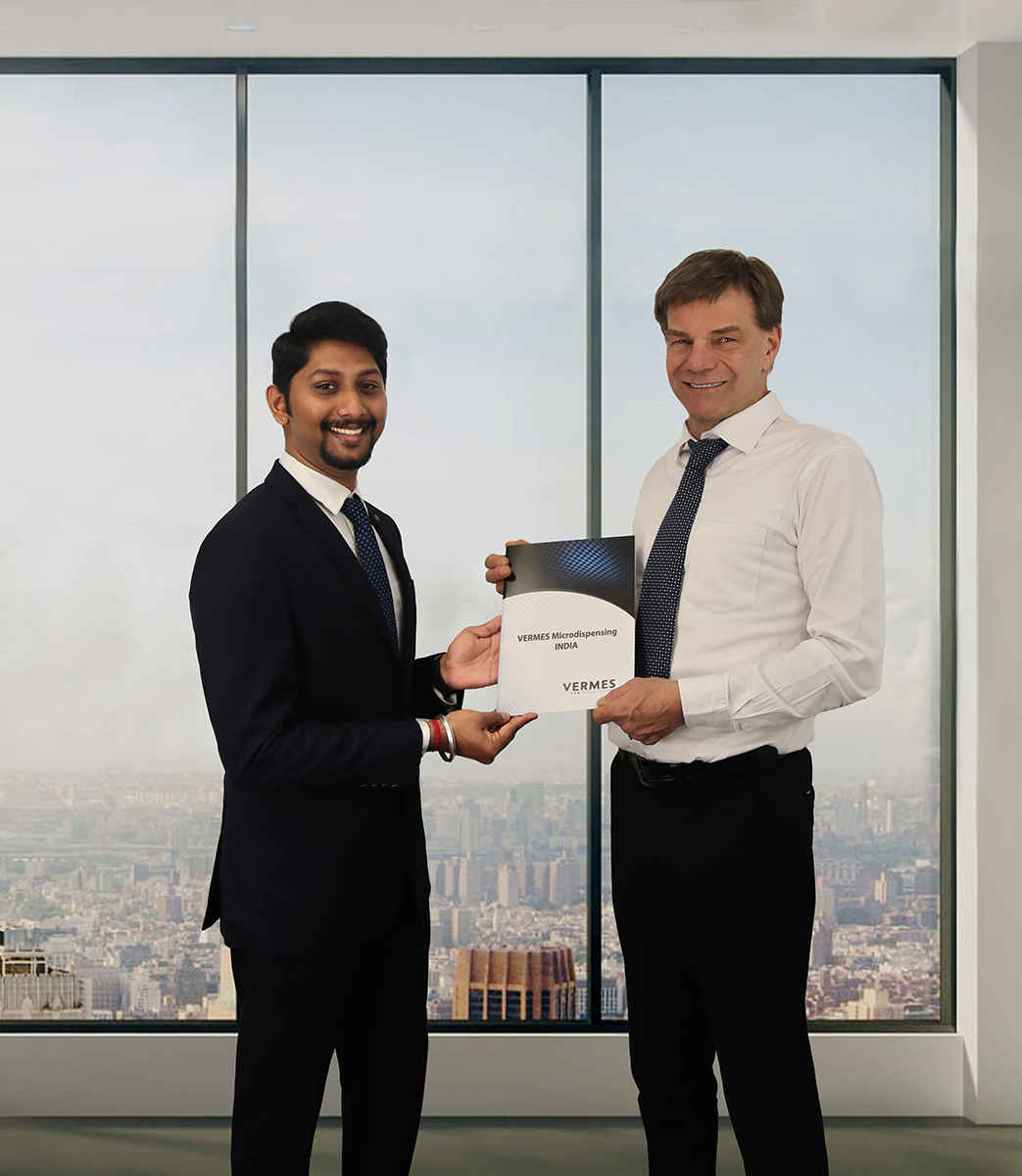 About Us
VERMES Microdispensing is a high-tech industry leader that ushered in a new era in the design and manufacture of microdispensing concepts and systems with the introduction of the world's first contact-free piezo-based systems in 2001.
We serve the automotive, consumer electronics, semiconductor, communications, medical and pharmaceutical markets with premium quality dispensing solutions for adhesives, silicones, greases, solvents and other fluids in micro-, nano-, and sub-nano liter quantities.
In recent years, leveraging decades of innovation and design leadership in electronic technologies, we have transitioned our business portfolio from a dispensing-centric company to the VERMES Group.
Our main business units include VERMES Microdispensing, VERMES Medical Equipment, VERMES Special Machinery and VERMES Solid Oxide Cells Technology.
A world-class knowledge base, unparalleled R&D expertise and a global network of subsidiaries, enable the company to respond quickly and effectively to changing market conditions and customer needs.
More information about VERMES can be found at vermes.com.