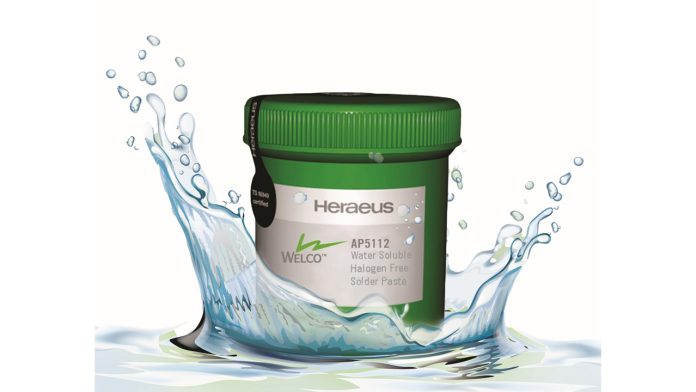 Heraeus Electronics received a 2022 Global Technology Award in the category of Solder Paste for its AP5112 Fine Pitch Solder Paste for SiP applications. The award was announced during a ceremony that took place Wednesday, Nov. 2, 2022 during SMTA International.
Continued miniaturization and the increase of complexity and functionality of packages drive the need for fine pitch solder pastes. AP5112 is a halogen-free water-soluble printing solder paste series designed to address those challenges.
Driven by form factor, the number of components in SiP are increasing while package size continues to stay very small. This creates challenges for solder materials. Furthermore, short time to market for new products becomes a crucial strategic advantage in a highly competitive environment of communications, computer, and consumer market segments.
AP5112 Fine Pitch Solder Paste is a key enabler of 5G mobile communications. It enables the heterogeneous integration of fine-pitch flip chips and tiny passive components in the 5G RF Front-End (RFFE) system-in-package (SiP) modules.
The Global Technology Awards have recognized the very best new innovations in the printed circuit assembly and packaging industries since 2005. The prestigious awards contest has been bringing together the global SMT and advanced packaging industry in a celebration of the companies and people that are achieving the highest standards and driving our industry forward. For more information, visit www.globalsmt.net/awards.
"We are very fortunate to be able to work closely with our customers to develop products for the soldering challenges of tomorrow," says David Malanga, Vice President of Sales of Heraeus Electronics. "We are honored to have these efforts highlighted with this award."
To learn more about Heraeus Electronics, visit www.heraeus-electronics.com.