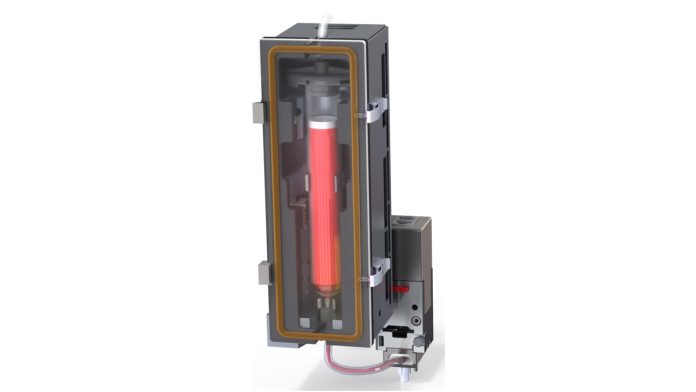 ITW EAE is releasing a proprietary syringe cooling option that increases the "pot-life" of underfill materials by maintaining the syringe at controlled temperature within the heated machine environment. This new and innovative solution provides reduced material waste, reduces downtime and increased process stability. It is available as an option for the Prodigy dispensing system and works with all Camalot pumps.
Underfill applications typically require that the PCB/substrate be heated to a specified (topside) temperature prior to dispensing. Boards are heated by chucks that can be set to 150°C and will raise the internal machine temperature, in some cases to >50°C when multiple chucks are used. Underfill materials have a pot life to which they remain usable at an ambient temperature of 25°C.  Increasing ambient temperature reduces the pot-life. As an example, a material with a 48-hour "pot-life" can reduce to 8 hours if the machine environment is at 40°C.
Camalot's integrated closed-loop syringe cooling option controls the temperature of the underfill material in the syringe to maintain pot-life. The cooling unit can accommodate 10cc to 55cc syringes and includes a low-level sensor that alerts the operator through software when the syringe is empty.  The temperature of the cooler unit is set and monitored within the machines Benchmark operating system. The temperature setpoints are stored with the process program and allows different temperatures to be loaded if more than one type of material is used. As with all program parameters, the temperature data is logged and can be transferred via OpenApps to factory MES systems.
"This new syringe cooling system is proven to deliver an improved process, increased productivity, and reduced cost of ownership," said Hugh Read, ITW EAE Dispenser Group Business Manager. "Depending on the material properties and internal machine temperature, underfill material will last 3-5 times longer when using the syringe cooling system."
For more information, please visit www.itweae.com