Hanwha Techwin Automation Americas, formerly Samsung C&T Automation, announces that it has partnered with East/West Manufacturing Enterprises (East/West) to increase high-quality PCB assembly in its manufacturing facility.
East/West is a full-service electronic contract manufacturing company that produces high-quality PCBs, custom cables, and electrical/mechanical assemblies for many different industries globally.  Headquartered in Round Rock, TX, the company provides industry-leading electronics manufacturing services and optimized supply chain solutions for customers in a range of industries including industrial and commercial OEMs, medical, automotive, and military-related device manufacturers.
East/West recently purchased a line solution from Hanwha Techwin for its new expanded facility. Andy Salo, East/West President & CEO said, "We were moving into our new state-of-the-art 43,000 sq ft facility and needed to add a new SMT line to increase capacity. We looked at several SMT equipment vendor solutions, and chose multiple Hanwha Techwin Decan S1s for pick-and-place. Hanwha offered a very compelling solution for versatility, speed, and overall features including Aegis FactoryLogix NPI integration, offline programming and feeder verification. In fact, Hanwha provided a turnkey full line solution including an advanced Pemtron 3D SPI for solder paste inspection and a TSM Nitrogen Reflow Oven. We couldn't be happier with the speed and overall capabilities of the new Hanwha SMT line."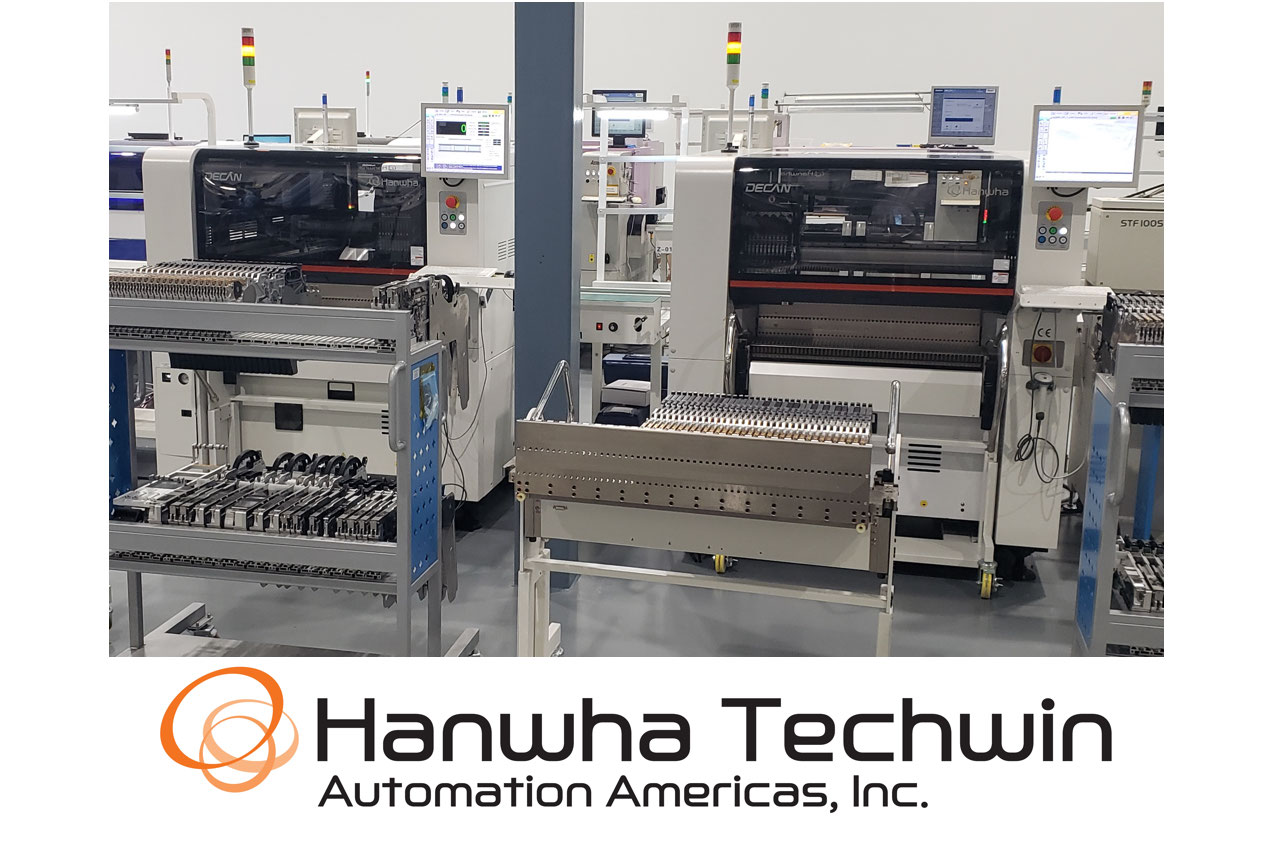 Jonny Nichols, Vice President of Marketing at Hanwha Techwin, added, "Congratulations to Andy Salo and team on their new facility and selection of advanced machinery for PCB assembly from Hanwha Techwin Automation Americas. The future of electronic manufacturing is certainly bright in the state of Texas as is the newly forged partnership between East/West and HTAA."
With the highest performance among mounters in its class, the Decan S1 next-generation chip mounter accommodates both standard and large PCBs, providing optimal productivity for batch production, while improving actual productivity and placement quality and reducing loss rates. With a placement speed of 47,000 cph and accuracy of ±28 µm, the Decan S1 improves placement speeds of odd-shaped components by 25 percent. Additionally, the system improves simultaneous pick-up rates by arranging pocket positions automatically through communication between the machine and feeder.
Additionally, Hanwha's Decan family of pick-and-place machinery delivers unparalleled price-performance with single and dual-gantry systems for chip shooting, flexible mounting and odd-form applications. Select models are available with Hanwha's innovative conveyor modularity that provides single and dual lane processing to cost-efficiently address changes in production volumes when they occur.
For more information on Hanwha Techwin's technologies and products, visit hanwha.com
To find out more about East/West Manufacturing Enterprises, visit ewme.com
About Hanwha Techwin
Hanwha Techwin provides synergized SMT assembly solutions combined with world-class service and support throughout North America. Solutions include state-of-the-art printing, placement, reflow and board handling technologies to achieve high quality and price-performance without compromising flexibility and growth path on demand. All systems include installation, training, warranty, 24/7 technical phone support, next business day onsite support, next business day shipment of emergency spare parts, and free MMI software upgrades for life on select gear.